Afghan For A Soldier
Okay, so tonight has been spent starting the front of my sweater. (That's right folks... I have COMPLETED the back of the sweater!) You should have seen my happy dance! Anyway, I got one row completed on the front 3 different times. Tell me what is so difficult about purl 3, knit 3? Apparently a lot, as I had to start 3 times. Guess it's not my night. :-( So then I was trying to play around with HTML to add the list of blogs that I visit daily to my side bar, but wasn't having much luck with that either. So I thought I'd just kick back and relax and make a post.
Here's the completed backside: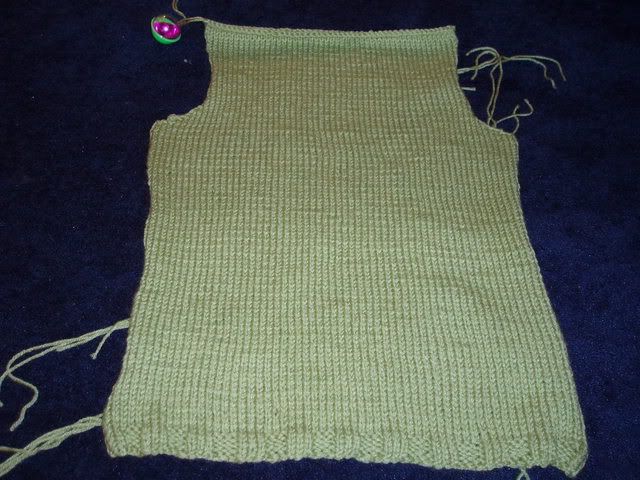 Okay, so onto my post title... my 20 year old brother in law is a soldier who has just arrived in Iraq. He sent me an e-mail a few days ago with his address, so I immeadiately started turning the wheels in my head trying to decide what to put in his care package. I didn't know what he wanted/needed so I asked him. I received an e-mail today and he requested the following: a phone card so he could call and talk to his nephew, q-tips, and food. I thought, surely they're feeding you gourmet meals over there? ha ha, yeah right. He'd probably be happy if I sent him a box of Zesta saltine crackers. (This story does have a knitting point... and I promise I'm getting there.) And as far as the q-tips, I'm not sure I want to know. And OF COURSE I'm going to send him a phone card. I want to talk to him!
So then I'm thinking... okay, I've got to give him something special. Then I thought.... AN AFGHAN! I know that it will be getting warm there soon, but he'll be there for at least a year so he'll use it at some point. And even if it just lays at the bottom of his bed at least he'll have it and at least he'll know that we love him, and miss him, and are thinking about him. So now... I need to find an afghan pattern that a 20 year old man would be proud to have displayed. But it also needs to be quick. I haven't decided whether I will make it red, white, and blue or cammy colors, or something else all together. But if I found a pattern that screamed "Craig" to me then I'd know what to do with the colors, so does anyone have a simple purl/knit blanket pattern? I guess it doesn't have to be only purl/knit, but I'd like it to be on the easier side so that I can try to finish it within a month and get it on its way.
So if anyone has any ideas please send them my way, either by posting a comment or by e-mailing me directly:
melanie_harmeling@sbcglobal.net
.
Until next time... knit some! ;0)
Posted by Melanie at 10:18 PM