My Knitting Nook
This is where I knit, blog, and blog read:
The drawers behind my glider store my current yarn. There's much more in the hall storage closet! There's my 4th diet pepsi of the day... that's my drug of choice these days. And my *New* laptop. I love this thing... and I've found that I'm getting much better at knitting and reading at the same time! Perfect! Life can't get much better!
My dog Roxy likes to lay on my lap when I'm knitting... if I'm in a "don't touch me leave me alone mood then she'll lay over on the chair on the other side of the room next to her other best friend, Tad, the leap frog stuffed animal.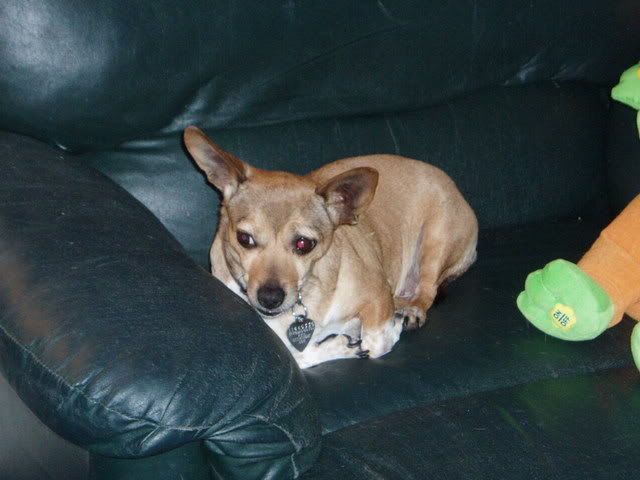 This is my cat, Yoda. I posted a picture of him yesterday, but I didn't want him to feel left out today. You know how it is... you give one person/animal attention and every other living creature in the house wants attention. So between a husband, toddler, dog and cat, I don't have much love to give at the end of the day. HA HA HA! And my husband doesn't understand why I don't want sex EVERY SINGLE NIGHT! GEEZ!
Anyway, got a bit distracted there-- here's Yoda again: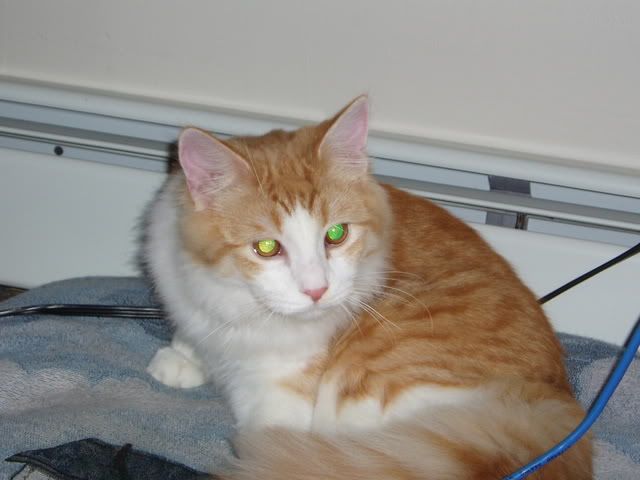 This is my latest edition of yarn and projects to be started.
I got this lustersheen at a great deal... I was unsure of what I wanted to do with it because it's a VERY FINE yarn, but have decided to make the fan and feather shawl from
www.knitting-and.com
These colors remind me of spring! I think it will be a great thing to throw over my shoulders while I'm outside as soon as it gets warm!
Speaking of... I can't wait for it to get warm. I have a nice big backyard and an outdoor swing. I'm hoping that once it does get warm my son can run around the back yard and Roxy and I can sit on the swing and knit. Of course my son will probably be testing his boundries (imagine that) and I'll probably be chasing him... but hey... it's my dreams that keep me going. It's the hope of getting out of the monotony of my day-to-day stay-at-home-mom /wife-of-a-submariner-who-won't-be-home-for-six-months-of-this-year. Can you tell I'm having a bit of an idenity crisis lately? My son woke up crying last night at 3am and I just wanted to scream, "THIS IS NOT MY LIFE." Thank God I have knitting to relax me! ;-)
And finally, this is some of the cammy yarn I picked up for my brother in law (the one in Iraq.) Now I just need to decide on a blanket pattern and get started. No motivation for that one at the moment... I've just done two small blankets in the last month...don't feel much like casting on a million and one stitches at the moment!
OH WAIT... this is the front of my sweater. (looks the same as the back of the sweater a few posts down, doesn't it? ha ha) I'm really getting excited about it, but at the same time I'm nervous about shapping the V-neck on it. I'm sure I'll be able to do it, worse that will happen is I'll have to frog it a few times. I know I'll get it, I'm just afraid of the unknown.
Oh, speaking of sweaters... Kathy... I know you said you don't wear sweaters and no one you know wears sweaters so you won't knit them... I was thinking... I wear sweaters. Feel free to knit one and send it my way. Size medium please! HA HA HA! ;-)
Okay, that's all for tonight... time for a little more sweater work. Everyone seems to name their sweaters, I just haven't been able to come up with a name for it. Any ideas? I was thinking maybe I could name her "whore." So far she's been just to damn easy. Sorry, I'll clean up my mouth!
Until next time, Knit some.
Posted by Melanie at 9:20 PM