NOT SO MUCH
I just lost my entired post.... just as I was about to post... I accidentally X'ed out of the page. ::Kicking myself::
Anyway, I'm not feeling so motivated now, so I'm going to skip all the words and just post my pictures and go cry myself to sleep. (Not really)
My son's baby blanket. Completed today. I'm not a huge fan of it, but when I spread it out on the floor and said, "Here's your blanket Zander, do you like it?" He laid down on it and sighed: "AWWWWW." Almost as if he knew that I worked so hard on it and wanted his approval. TOO CUTE!
And then, my dishcloth that I promised I would post. I like dishcloths... they're quick, easy, fun, and require little commitment (my kind of project.)
And finally, my little yarn kitty, Yoda. He's such a pain in my butt and yet just so DOG-ON cute!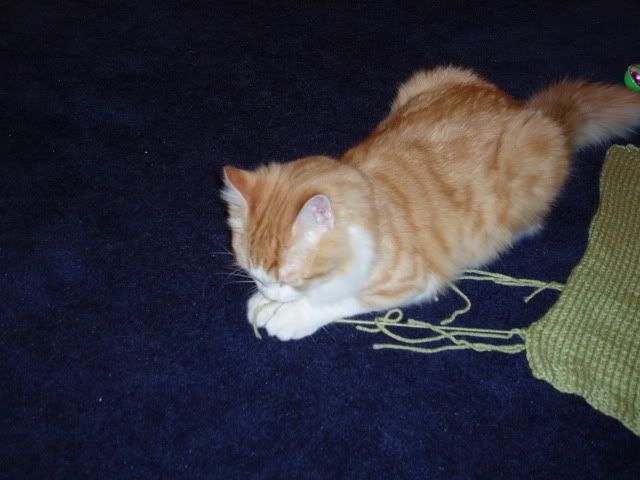 Okay, maybe I'll try to re-type my long blog from tonight tomorrow... as for now I'm just frustrated and want to get a good night's sleep!
Until then, Knit some.
Melanie
Posted by Melanie at 9:48 PM