Cables & Clappy
Okay, so I joined the Knit Red Knit Along today. Check out the button on the right hand side if you want to join or learn more. It's a new knit along to raise awareness of Heart Disease. There is no restriction to what you can knit-- only that it's red. I've decided to knit my mom (whose favorite color is red)
Clapotis
I think I will do it in Caron Simply soft. Although it's probably not the most luxurious yarn for something that is wrapped around your neck and draped over your shoulders it IS a soft inexpensive yarn. And since you need LOTS of this yarn to complete the project I think it will be the best bet.
Here is an update on Mark's
Irish Hiking Scarf
: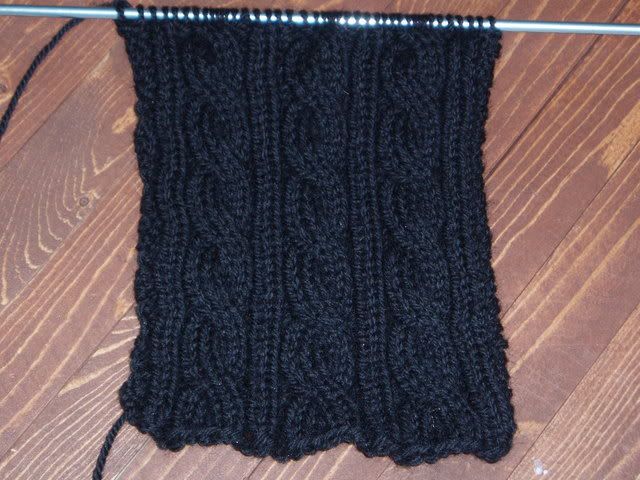 Sorry about the washed out look, but I wanted to show a closeup of the cables.
This scarf is great and I think Mark will really enjoy it, but I'm looking forward to adding something else to the needles... as I feel like this could get pretty boring pretty quickly.
Of course I do have mariah (totally frustrated with it right now and I'm only 2" into the first sleeve) & my V-neck sweater (don't feel like ripping out my sleeve that is 2" too short!) that I could be working on. BLAH!
Here are my stitch markers. These little B***ARDS are a pain in the butt to photograph. I'll get a scan of them later... that will probably turn out better. But for now: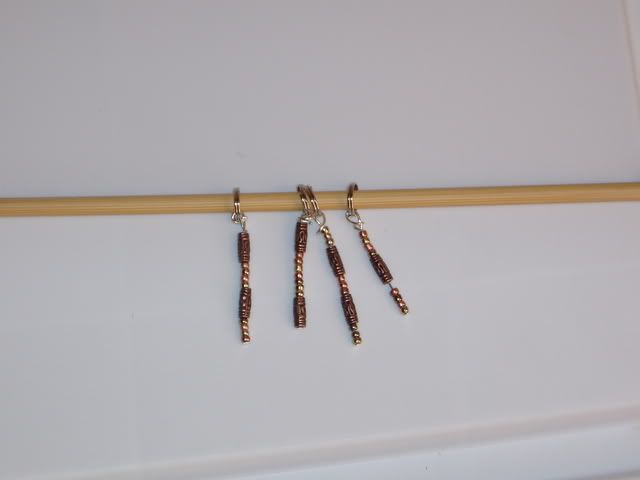 So, that's all for tonight... don't forget to check out the
Knit Red Knitalong
group!
Until next time, knit some!
Posted by Melanie at 10:13 PM