Long Overdo Post
Hello Readers! Greetings on a yucky, rainy, dreary day in Connecticut. I know that I am LLOOOOOONNNNNGGGG overdo on this post. I promised I would post a picture of my finished sock days ago, and I didn't. Why? Because I've been busy. Knitting & dealing with a son that is having as many problems with daddy being gone as I am having. Luckily we only have a few more weeks. We will not be together for easter or for our 2 year anniversary. But if I can get through those I'll know I only have about a week after that! YAY!
Okay, so enough suspense. Here is my first finished (sucessful) sock.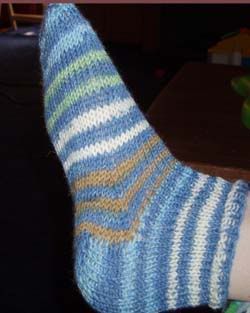 Here it is on the table, and my second sock so far (where the stripes won't match up perfectly.) I'm getting ready to turn the heel.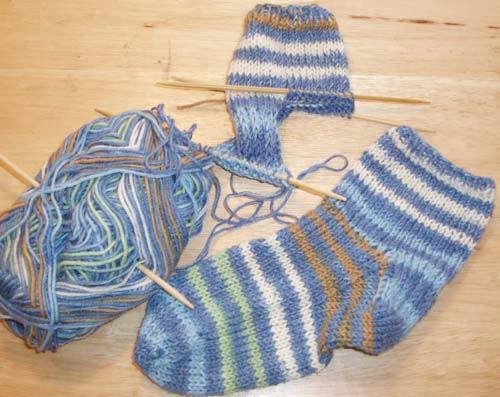 No bad, eh? There are mistakes... 1 dropped stitch, several ladders, and a few little random holes, but guess what? I DON'T CARE! I made them myself and I love them! :-)
So, I started Clappy for the
Knit Red KAL.
If you have some red yarn in your stash come on over and join us. You can knit anything your little heart desires as long as it's red... for Heart Disease awareness. There is no real start date... many have started, many haven't... but the end date isn't until the end of the year... so come over whenever!
Anyway, here's clappy so far...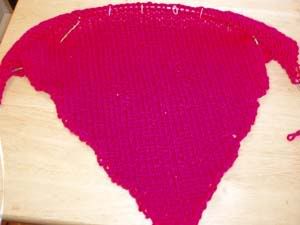 Now, tell me... is that red or pink? It is Caron Simply soft in Rubine Red. Excpet when I got it it looked pink. Sometimes I see the red, but I mostly see pink.
Sallee
, the list mom, okayed it anyway, but in order to do something truly red I will knit my mom some socks. This is it (and other socks that I got from
Knitting-warehouse.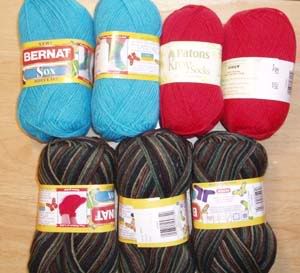 The cammy yarn is for a pair of work socks for Nick and with leftovers I will make Zander a little pair as well. The blue will be for a pair of crew cut socks for me and a pair for the little guy.
And finally... two last stock additions. I am in a yarn swapping group-
Yarn Yoga
and we did a $10.00 yarn swap this month. I got 9 balls of sugar & cream yarn. I love to knit up quick wash rags in between projects so this will be great when I get in a knitting lull. I've knit 3 dishcloths so far this year. They only take about 2 hours. I think from now on I'll start saving them to throw in with Christmas gifts for family and friends. Nothing like a REALLY durable dish rag. :-) (I just realized how many names I used in the last few sentences for a wash cloth!...must be from my years of moving from the midwest, to the south, to the east... I say them all. LOL)
And finally... my aunt sent me some yarn from her stash...
I think this yarn will make a LOVELY shawl.
Close up: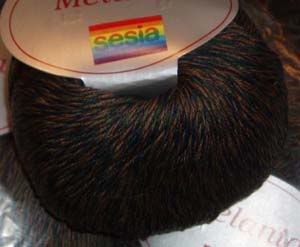 and finally: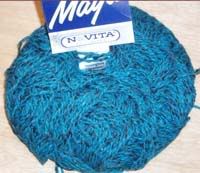 Very nice, huh? I'm so lucky. Okay... back to knitting!
You too!
Posted by Melanie at 11:14 AM