TOO MUCH STUFF
OH MY GOSH... way to much stuff to put in a title. First of all, yes you're at the right blog.
Kitt
helped me fix mine! WOO HOO!!! And she's helping me figure out those neat little progress bars on the right too. And she made my buttons. Take one for your blog please! Aren't they great?!
I LOVE YOU KITT!!!
And amonge other news... I got a wonderful gift in the mail from
Kim.
Check it out!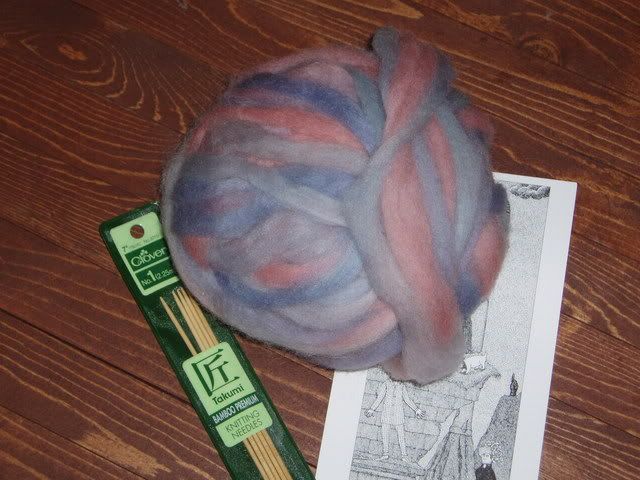 Isn't that roving BEAUTIFUL? I've been informed that it is merino... which is so funny & perfect because that's my favorite wool to work with. For some reason the colors remind me of childhood!! I just want to run my face up against it and walk down memory lane. I think it reminds me of my grandmother. I also got a pair of size 1 clover bamboo DPN. Those suckers are TINY! I think since the roving and the needles came together that they want to be wrist warmers or some other such thing that will be knit in the round. Any ideas?
And along DPN lines... check this out... I have FINALLY conquered my fear. Aren't you ladies proud?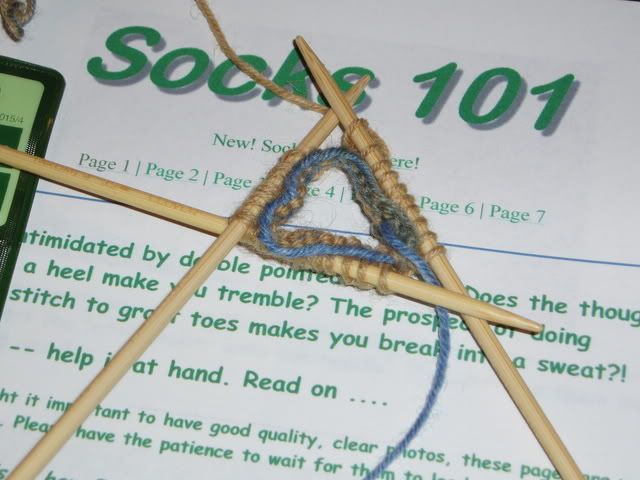 okay, yes, I know there's not much there. That is 3 rows of 28 stitches. I'm doing a guage swatch and just learning how to do it. I can already tell that I'll have that ladder problem inbetween the needles. I heard to pull hard, but I did that. Not sure what the deal is. Maybe I'll just have to get used to it.
Also... Lion Brand Magic Stripes is the yarn you see here... great stuff... I really like it so far, EXCEPT the label on the skein says size 4 needles. You get on lionbrand.com and look up their sock pattern for use with this yarn and it says size 3 needles. HELLO. So that's one of the main reasons I'm doing a swatch... I got the "wrong" size needles. I've heard that most socks use size three so I'm sure I'll buy them eventually, but that drove me nuts!!
Onto other things that drove me nuts. My son. I got out of the shower today and walk in my living room to find this: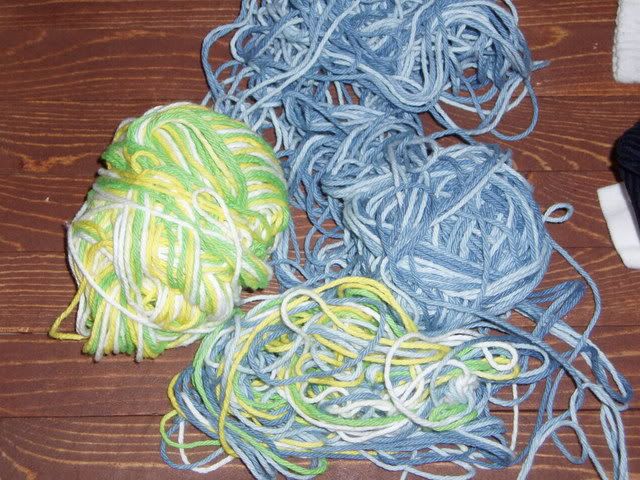 That is (was) 3 balls of sugar and cream yarn. They, before Zander got to them, had the wrapper still on them.
So I sit down and after a half an hour this is what I have done:
Notice that the green,yellow,white ball is gone. I got that seperated. Now I'm left with 2 balls of the exact same color. Talk about making my headache worse. It's still sitting on my floor. I'll have to clean it up before I go to bed... but what a headache! Oh, and it's verigated yarn so it's not like it's even easy to follow the tail through the pile of yarn. I should have gotten a picture of zander with it all wrapped around his legs. I didn't think about it. I was so mad my eyes were burning at that moment.
And one final thing... a woman on the
Knit Red Knit Along group
told me about this neat, free way to make a center pull ball.
Take a toilet paper roll (empty) cut two notches in it and thread the tail in those notches. Start winding around the tube. Once you have a nice size ball started start making the wraps face diagonally as you see here: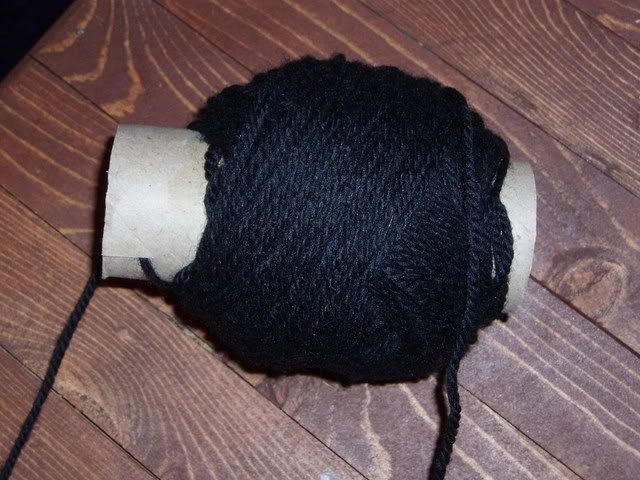 Once you're done winding, simply slide the ball off the tube and you've got yourself a center pull ball. I didn't get that far tonight, but I'll show you pictures of what it's like when it's done.
Anyway, the yarn I'm wrapping is patons classic marino. (love that stuff!) and look at how the inside of the factory rolled ball looks:
That in itself looks like art to me! (easily amused I know.) Well, that's all the stuff I have to share with you tonight. I hope you have a great weekend and until next time, Knit some.
Posted by Melanie at 9:15 PM