An Update From Kentucky
Hey... just a quick update to let you know that I'm still alive. Alive, kicking, and screaming. I'm having a great time visiting with family and am so glad to be back "home." I can't wait to move back here next May.
I'm only wishing that I could get that actual vacation. Nick is here, but working with my father everyday. I'm still not seeing much of him. Which I'm used to, but I'm started to get aggervated that I'm not getting a break from Zander. It sounds awful but I'm sure mothers understand. An 18 month old can be very tiring, especially when you are usually a single mom. I need some time without him. I got 2 hours last night (my mom and I took a knitting class) but when I came home Zander wasn't bathed, had a poopy diaper and was just in a bad, cranky mood. Made me want to turn around and walk right back out the door.
Anyway, knitting class. My mom and I went to knitwits in Northern Kentucky and took a triangular scarf/shawlette pattern. My mom's will be a triangular scarf (she took it to work with her so I can't snap a picture) and mine will be a shawlette. Here it is so far.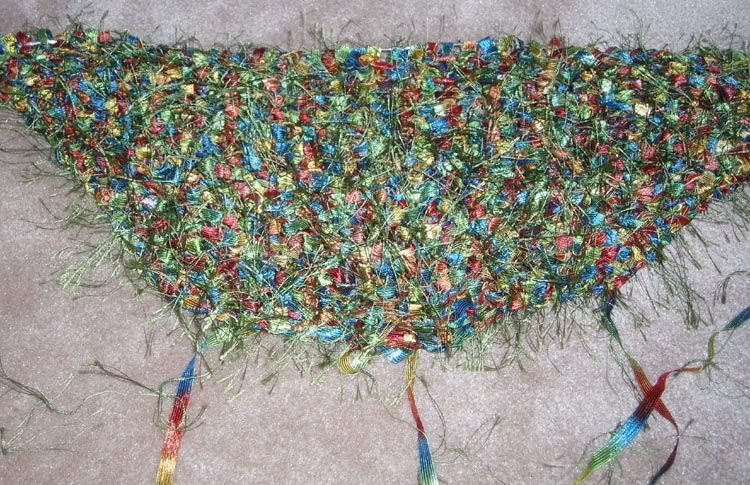 This is a fun, easy, quick project. Using 200 yards of novelty yarn & size 17 needles.
Cast on 30, knit the first row. Every other row is also knit but is started with the first stitch being a KFB to increase. Do this until you reach 130 stitches/run out of yarn/like the size. :-)
I used Lion Brand Incredible (ribbon yarn-- my first project with ribbon yarn-- love it) and eyelash yarn. This eyelash yarn is fantastic. I hate fun fur and the likes. It looks like the project needs a good close shave. In other words, most projects with fun fur are TOO furry. I'm not throwing any flames here. I've used fun fur. I made a scarf for my cousin and she loved it and I'm glad I used it, but I don't like it personally for me. BUT the stuff I'm using -- GGH "Fancy" yarn. It looks like this up close: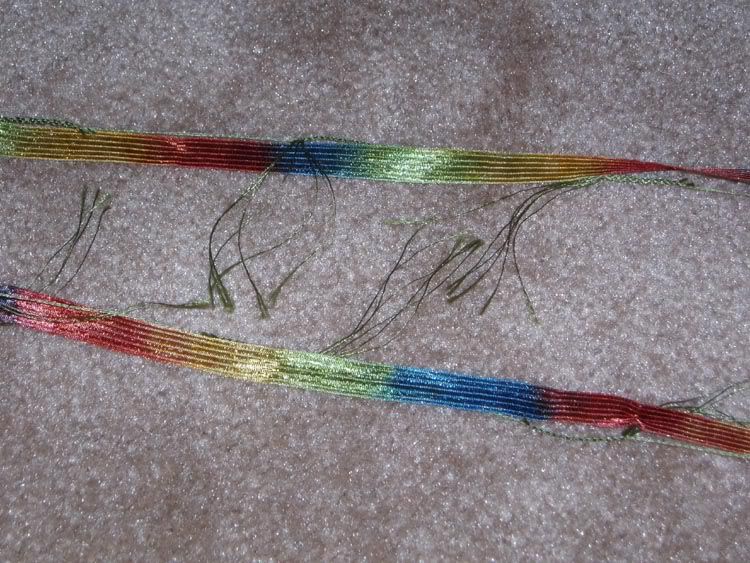 Please keep in mind that this is also taken with the ribbon yarn. But check out those eyelashes!!! Or lack thereof. Few and far between! This is one of those less is more things. You can see and order the yarn here:
Fancy Yarn
Great stuff. Anyway, that's all the info I have for now... I have done more knitting, but I'll post all about it later. I also want to show you what my mom (a real knitting Newbie) has been up to. I'm so proud of her.
Here, I leave you with my mom's spoiled rotten doggie, Zoey.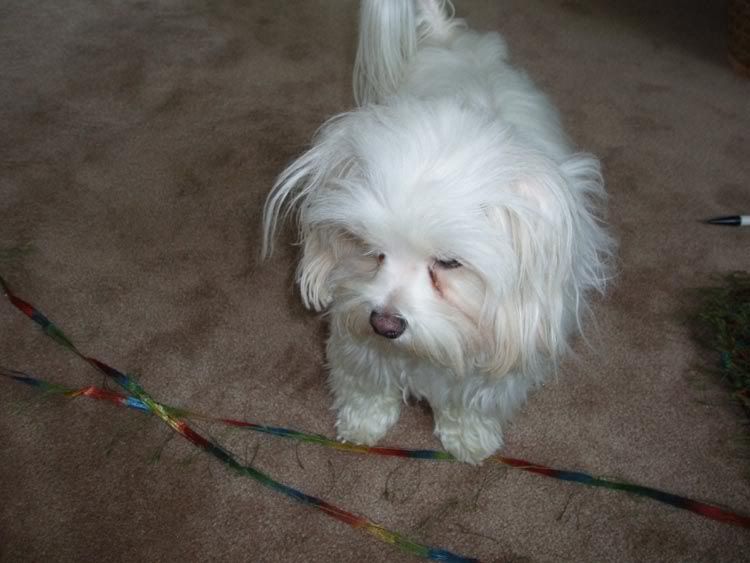 Posted by Melanie at 1:54 PM 6 comments