Camera Found
Hello Everyone!!
I found my digital camera! Actually my neighbor found it. I spent several hours tearing my living room apart & didn't find it. I vented to Barb about it and she spotted it without even stepping into my house. It was behind my Tv. You could see it from the window outside! :-) Go figure. She's my hero today!
So I have lots of pictures for everyone. First: Finished socks: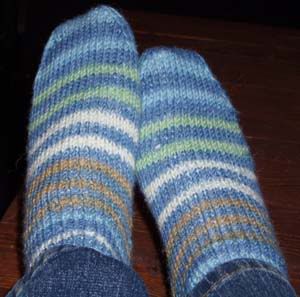 To sum up this Finished Object:Yarn:
Lion Brand magic stripes
Needles:
Size 4 DPN bamboo
Lesson Learned:
Size 3 needles would work better. I learned to pick up gusset stitches and I learned that socks don't necessarily need to be perfect matches in order to make you smile! :-)
I LOVE SOCKS!!!
Onto other news... here is a clappy update: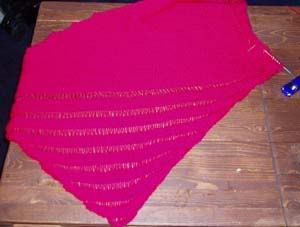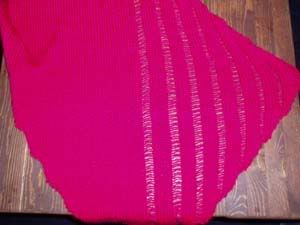 I've just finished my 8th dropped stitches (straight section repeat.)
I love this pattern. And the next time I make it (I'm SURE there will be a next time) I will use varigated yarn. I really think it would add a little something that this one doesn't have .
Look what my mom sent me for Easter:
This is two skeins of Noro Daria yarn. It is used to make belts and bags mostly. I'm going to cast on 10 stitches, knit the first 7, slip 3, and repeat. This is such a neat gift. I don't "glam up" a lot, and I wear a lot of greys and "boring" mom colors, so this will be fun to thread around my waist (and my jeans that are now TOO big since I lost ALL of my pregnancy weight. WOO HOO!!)
I'll let you know when I cast on for those.
Finally,
Kathy
has also been bitten by the sock bug too. Can't wait to see her first attempts and first socks. YAY SOCKS. Also, Kathy recently asked to hear the story of Nick and I since I married the boy next door. I plan on answering that question on here shortly. It is kind of a neat story... so stay tuned if you'd like to learn a little more about me personally. I'll post that one night when I don't have any knitting progress to report. Speaking of hubby... not much longer until he comes home. Just a few more weeks!! YAY!
Until next time,
Knit some.
Posted by Melanie at 7:41 PM