More Progress
on my felted bag and clapotis.
I just finished the 11th repeate of my straight section. Only two more rows of dropped stitches before I move to the decrease section. I am anxious to get it done & blocked so that I can take it to Kentucky with me to show my mom and aunt.
I should be receiving
Christine's
yarn next week sometime to start her clappy so I want to have this one off the needles. If I do a 3rd clappy I know that I'll do it wider to make it more "full sized" shawl like and with a varigated yarn.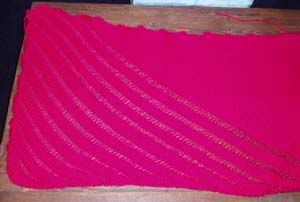 Sorry, for the lousy pictures. I rarely get a moment to photograph something in natural light. The little guy would be "helping" if I tried.
So, onto my felted bag: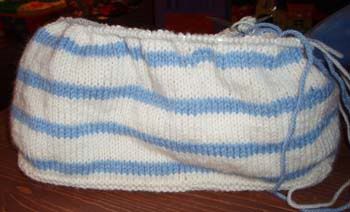 And here is a picture with Zander's car for size reference.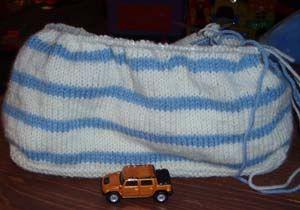 Unfortunately I think it needs to be twice as tall as it is now. I just don't know that I'll be able to get all that done by next weekend, but how I want to be able to felt it and carry it around. :-)
That's all the progress I have for tonight. I'm sure many of you are in Knitting-Chicks with me, but for those that aren't,
Dan
has a request. We're looking for a knit "wife-beater" (for a lack of a better, more PC word.)
I honestly think that any tank top pattern for a woman would do... it should be easy enough to alter the pattern a bit. Dan did find this pattern:
Shapely Tank Top
but said he'd prefer his shoulders to be a little thinner-- and of course he doesn't want purple. LOL. Anyone have any ideas? Guidance? Patterns? Thanks for any help in this. If I can make him happy he'll stop compaining to me. (just kidding, Dan.)
Until Next Time,
Knit some.
Posted by Melanie at 9:07 PM