Knitting, moving, and speaking progress.
Alright, so, I'm back "home" from my trip back home. It was wonderful. I'll get to more of that later.
Knitting:
I've started a clapotis for Christine. This is the progress so far. I'm using TLC Cotton Plus. I've heard both good and bad about the yarn and so I was a little concerned on if I would like working with it or not, but I really really do! It's 50% acrylic and 50% cotton. I can't tell there's any acrylic in it. So for someone that wants a "nicer" yarn for a "cheaper" price, this stuff is great.
I'm getting ready to start dropping stitches... just 2 more rows.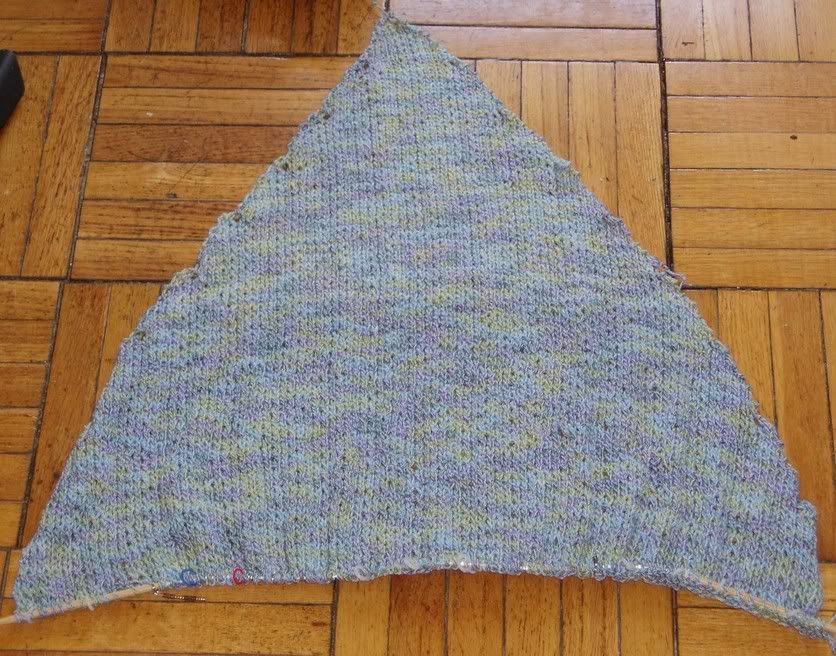 Here's a closeup of the yarn.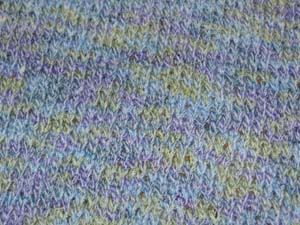 Cotton Plus calls for a size 8 needle but I bumped it up to a size 9 after hearing of clappy's done on bigger needles having a nicer drape. And since Christine will be wearing this at the end of july I wanted it to be light and airy. Not heavy or bulky. What do you think? How about you Christine?
Okay, other knitting progress. I LOVE TO FELT!!!
My first felted bag is complete. It was inspired by the booga bag.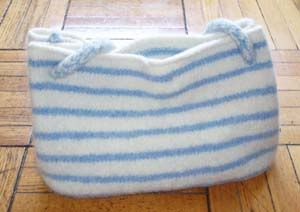 This is a close-up: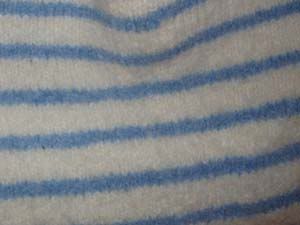 Here are the final bits of info on this finished object:
Pattern:
Booga Bag
(sorta)
Yarn:
Paton's Classic Wool. 100% Merino. I rate this an A+. Already have more in my stash and will DEFINITLY DEFINITLY use it again. Except for felted objects I'd bump up the needle to 8 or 9.
Needles:
Size 7 for bag size 9 for handles.
Things Learned:
How to make an I-Cord & how to pick up stitches on the bottom of my work (on the cast on edge.)
I don't like the handles much. I think I will re-do them in just plain cream. But I left my yarn at my mom's house. Which leads me into my next topic.
Moving:
After 3 years of being on my own I have planned a temporary move back to my folk's house in Kentucky.
Why would I do such a crazy insane thing?
1-I don't like that my parents aren't around to see Zander grow up, and that he isn't around to see them.
2- I like being able to see my mom. We have a great relationship.
3- I want to finish school.
4- I want to get a job.
5- I will save money by living with my parents. (Fewer bills, and grochery shopping, diapers, etc. WOO HOO)
6- I will have a free babysitter for things like school and job.
As a side note. I am not completely spoiled... my parents invited me to move back in with them so that they would be around to help with things like baby sitting while I'm at school and work.
Now, the negative side. I just have no idea what I'm thinking. I'm going to drive myself mad living under the same roof as my parents. But the loneliness/bordeom of being by myself with no hubby, very few friends, and no family is starting to get to me.
So my mom is flying up May 19th and taking Zander back down to Kentucky with her on the 21st. I then will have several days to pack, clean, and enjoy some peace and quiet. And since Nick leaves again before all that it will be TRUE peace and quiet. And then sometime that following week I will pack our clothes, toys, and yarn into my car, grab my dog and cat and drive down to Kentucky. Anyone ever traveled with a cat before? 12 hour car ride traveling? Any tips/advice?
Okay, so ...
next topic: Speaking: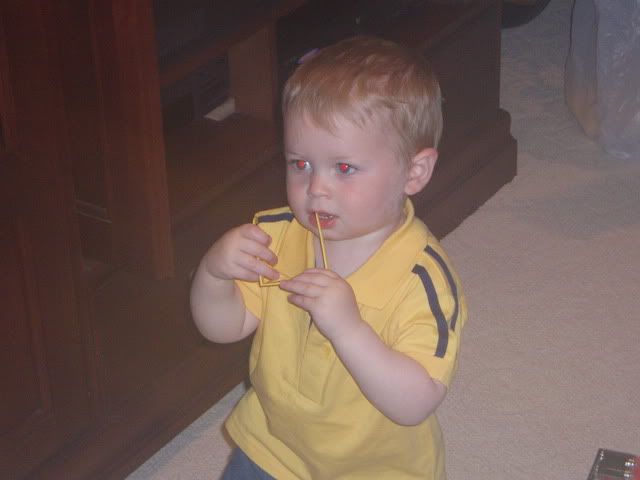 Here is my little kiddo now. Hard to believe he's 19 months old. He had several amazing things happen while in Kentucky. The first is: His "sucky" (pacifier) is gone. THANK GOD! It actually went pretty well. He still has a little trouble going to sleep without it, but I was really hoping to have him broke of it this January, and then I pushed my goal to 18 months of age I wanted it gone. And about a week shy of his 19 month "birthday" we got rid of it.
It was one of those things where the anticipation of it was worse than the fight/result. It was fine. And now when I look at my son I think of what a big boy he is, and I'm so proud.
Also, he's saying mama now. WOO HOO. We had a hearing check today, turns out he's got some fluid in his middle ear. (that made me feel about
"this big"
) so it will clear up with medication. And the audiologist seems to think that will help his speech. He should double his vocab every month once on the medication. So since he has 2 good solid words now (mama & dada) he should have 4 words by this time next month. And 8 the following month. etc etc.
Okay, gotta run. Hope I didn't bore you all too much.
Until next time,
Knit some.
Posted by Melanie at 2:14 PM