My Wits End
It's been a rough week in the world of being a mother so I'm greatly greatly looking forward to tomorrow. Usually when Nick gives me a day off it's hard because I generally can't relax around the house without Zander pestering. I've decided tomorrow morning I will shut the door in the bedroom read my new book and knit my little heart out.
My new book you ask?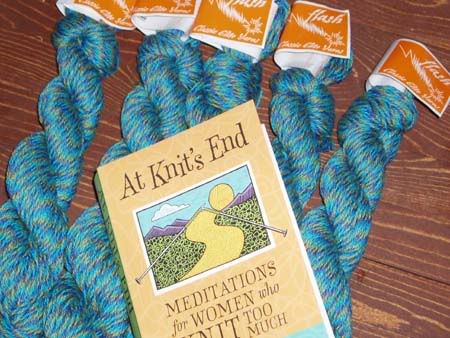 Yesterday I visited my first yarn shop in Connecticut. I drove 25 minutes to
Yarns Down Under
in Deep River. Which is about as exciting a place as it sounds. I was pleasently suprised and impressed. The only thing I wasn't happy about was their lack of price tags. I look forward to the day when I can go into a yarn shop and pick up the yarn I want without having to question the price. At this time in my life if I can get it $.50 cheaper a skein then It is worth it to me. I didn't feel like pestering the two workers to ask them the price of every single cotton yarn I came across. Luckily the yarn I fell in love with (about 500 yards of Flash, by Classic Elite) had a labeled price. Not sure what I'll make yet, but in the world of knitting I'm not sure everything NEEDS a purpose at first. Maybe I'll make a cute cotton tank top with it. We'll see. The Yarn Harlot's book is terriffic. For anyone sitting on the fence about it, definitly pick it up. It's only $10.00. Even I can afford that.

Here is Christine's clappy as of 5 minutes ago: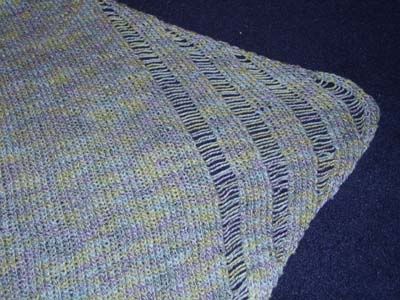 Right before I laid out the shawl I had completed row six in the straight section. 2 more rows and I would have dropped another column and the picture would give the impression that I am a lot farther than this one does. So pretend there is a 5th row of dropped stitches there.
I have also determined that I don't like laying this particular project out to photograph... it looks so deformed. The dropped stitch area looks shapely and rounded and the other end (cast on area) looks like a pointy mishap. Hense me cutting it out of this picture.
I am on my 3rd skein of yarn. It took one skein for the increase, 1 skein for 3 rows of dropped stitches. I only have (after the current skein) 2 more left. So I guess total I have 2.5 left. I don't think it's going to be enough... I'll have to go back and buy more.
I'm knitting a hat for charity: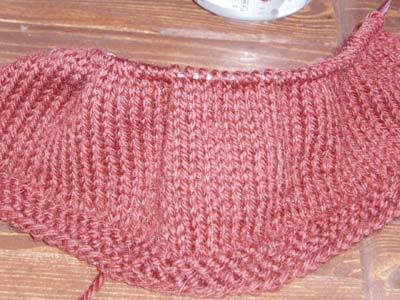 Not exciting. 3 row of garter stitch, the rest stockinette in Brown Paton's classic merino wool. It's for the soldiers. Can't be fancy-- at all. And has to be in army colors. So although it's not exciting to look at (or work on). I feel good knowing that some soldier is going to have a super warm head because of me. ;-)
Off to enjoy my last 25 minutes of peace and quiet before the rugrat wakes up. It has dawned on me that he is rapidly approaching his second birthday and yet he has already entered the terrible two stage. He has received 6 smacked hands already today and it's only 12:00 for not listening when I say no.
HAPPY MOTHERS DAY ALL!
Posted by Melanie at 11:45 AM