Warm The World
Well, I joined
Warm The World
and started this:
The pattern can be found
here.
(Thanks
Jen
). It's funny. I try to get these pictures during the day... when I have a tiny bit of daylight in my poorly lit home, and then at night when I go to blog I think, "Man, I'm already a lot farther than that." This blanket is going quickly though. Easy project, and great for a charity knitting project. Considering I got an ENTIRE garbage bag FULL of yarn (picture to come) I think I'll need to make the majority of these projects simple or else I'll be knitting up this yarn until I'm 60. And trust me-- I'm young... 60 years old is a long way off. ;-)
Here's an update on my sister's boyfriend's scarf: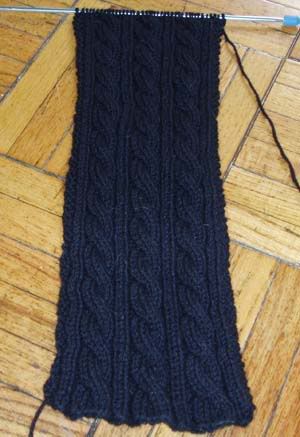 And finally... here's
Christine's
Clappy-- marching right along.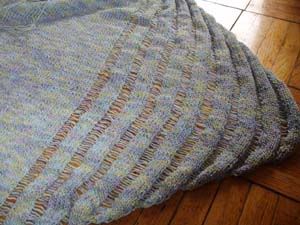 And in summary.... I'm still dealing with the insurance company from hell (sounds like GUY-CO). They claim to have a 97% satisfaction rate. My guess is that the 3% that are unhappy are the ones that have to put in some sort of claim.
Since they have yet to receive my police report in the mail (it's in transit) which says that the fire was NOT intentionally set they are still treating me like an arsonist. The first proposed settlement they sent me was $7,011.00. As I've mentioned the kelly blue book is worth $8,200. Upon arguing with her on Monday about the "monetary value" of my car I explained to her several things that I've already mentioned about how well I kept it, how it's virtually irreplaceable in my heart but not replaceable money wise for $7,000. I told her how I took excellent care of the car, etc. Her response was, "Well, there was obviously something wrong with it. It went up in flames." I wanted to stick my hand through the phone and pull out her heart. ARE YOU FREAKING KIDDING ME???? I responded, "the fire was a flukey thing. It is not in ANY WAY reflective of how I took care of it." She then counters, "well, I'm not settling with you right now." I ended the conversation, "Well, that's fine, but I'm just letting you know, I will not be taking your offer. Have a nice day." [click]
I've had enough. I'm not trying to run off with a brand new Ford Mustang... I just want what my car is worth, and I just want to be able to replace it. I can not replace it for that. I understand that they're a business, but they don't understand that we are a one car, one income, military family. This car needs to be reliable, get me from point a to point b and have NO mechanical problems. I have VERY few people to call if my car breaks down on the side of the road while Nick is not in port, and even fewer resources to collect on/in to help pay for any sort of damage while Nick is not in port. Give a girl a break.
Nick could make TWICE as much at a civilian job, yet he wanted to serve a few years in the military and do something for his country. This is the country that my husband is working for? A dishonest, unloyal, cheating country?? I'm so discouraged right now. Maybe the whole country isn't that bad but this to me, is theft. I paid good money for my policy, I paid extra money each month to have my low deductible to protect me in a case like this. Some protection I'm getting. They haven't even sent me a dime for the rental car I've had for 1 week and 3 days (that's $300.00 out of my pocket for those that are counting.) Let me tell you how much I DON'T have $300.00. Actually, no, I won't tell you. I'll leave it at that.
Don't insure with GUY-CO. That or if you do, make sure you never, get in an accident, have a window break, and for goodness sakes please don't let your car catch on fire. Basically... become God so that you can alter fate. Then you can stay with GUY-CO, the company that claims to support military families and their service.
And to top everything off... I said goodbye to Nick this morning. There's a chance I won't see him until Thanksgiving. Great day ALL AROUND. BAH HUMBUG!
Posted by Melanie at 9:16 PM