Dizzy
I'm making myself dizzy with projects. I've decided I need to finish what I have on the needles... no more starting anything until I'm completely caught up. Of course... before I decided that I cast on for my mom's second sock.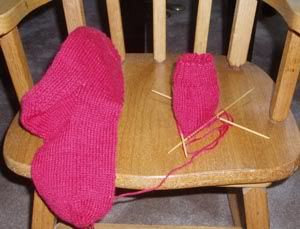 But, I'm progressing right along on Zander's sweater.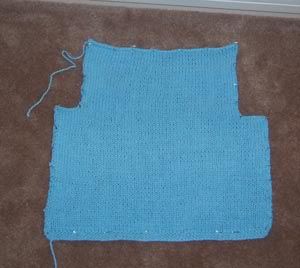 This is the back being blocked.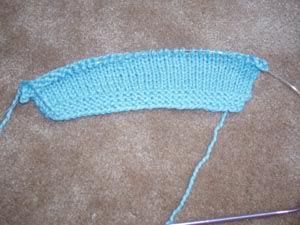 This is the beginning of the left front.
I have ripped out the lace shawl (again.) I'm just not going to waste anymore time on it... I keep getting to clue 3 only to find out I've messed up somewhere in clue 2. So forget about it-- for now. I really like knitting lace, but need to get some other projects finished so that I can concentrate on it.
I also had my first experiments with dying. I used kool-aid. I think the prices for dharma's trading dyes aren't bad, and I think I'd like my yarn to be a little less "Candy" colored and a little richer... any suggestions on what particular dye you've used from them? Did you like it? Would you/have you used it again?
Okay, quick post, I know... back to knitting!
Posted by Melanie at 2:05 PM 1 comments