As Life Begins to Slow
Well, I received one check in the mail on Saturday. The check for the car seat and rental car. I also got another check for the warranty we paid for on the Honda but never used. That check was SOOO helpful. When I get the big check tomorrow from the insurance company for the car I'll be able to purchase the car I really wanted and hoped for....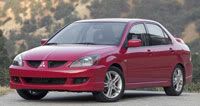 A 2003 Mitsubishi Lancer. 20,000 miles, great condition, maroon. Definitly not my dream car, but just so happened to be just out of my price range... but with the extra check... let's just say, cha ching.
Well, I'm considering myself all settled in to Kentucky. The reason I say this is it feels like vacation time is over... I'm starting to recall the annoying traits of my family members. Not that I don't have any... I'm sure I do. I just hope it can settle and remain calm. The good news is since the insurance thing is winding down and I will now have a car again. I am taking a solo road trip down to Georgia on the 4th of july weekend. Zander will be spending Wednesday-Saturday with Grandma Linda, and then my parents will take him again from Satruday to Tuesday, when I'll return. That will be a nice little break. From everyone... Mom, Dad, Zander, and Roxy. Just me and my car, and miles and miles of road and music. Speaking of music... what should I download (legally of course) and put on CD's for my trip? What are you listening to right now?
Comments?
Posted by Melanie at 11:23 AM