Can't Keep Up
I can't seem to keep up with the projects I intend to do!!!
I have a felted bag on the needles, am waiting for yarn for a shawl from
Folk Shawls
and for the
MysteryStoleAlong
. Speaking of... if you haven't seen it this group yet, you must join. It started June 3rd but lots of people (like myself) haven't started. AND... there are a TON of newbie lace knitters. So if you've always wanted to take the lace plunge hop on in, the water is warm!
Anyway... my projects...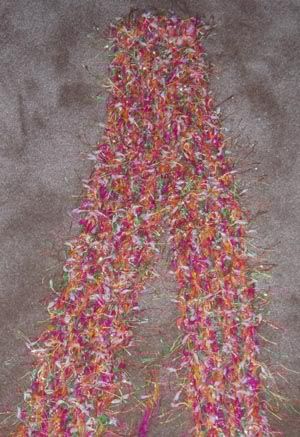 Completed recently but not posted... this is a scarf for my cousin Marilyn for Christmas. Not a huge fan of novelty yarns, but my aunt had it left over from a project and didn't want to work with it again so she gifted it to me. So it's knitted up and is happily awaiting Christmas when it will be opened by someone who WILL wear it! :-)
And... OTN: you can see the matchbox car for size reference... right now it is 14" wide, and I didn't measure the height cause Zander ran off with my tape measure but it's probably about 16" high.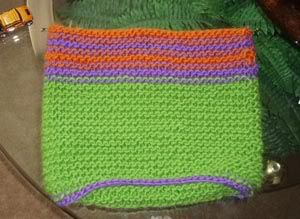 It will look like: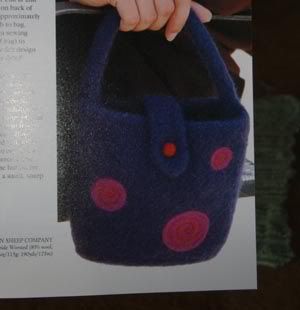 The colors are a little brighter than I normally knit with but I think it will be a totally fun summer bag. And as you can see I am moving right along. Believe it or not I casted on for this yesterday, Monday. I have to do the button flap, and the I-cord handles. Once those are attached I can felt it. I need to get some fleece and felting needles to do the little dots... which I think are sooo fun. Since I just moved here I had no idea if there were any spinning stores around... there is one 30 minutes down the road so maybe I'll swing by there this week or next week and pick that stuff up. Anyone ever needle felted? Is it fun? Tricky?
And for my SP5 pal... here is a picture of my dog, Roxy that I didn't have the other day when answering the questionaire:
And as per
Kathy's
request- My rugrat: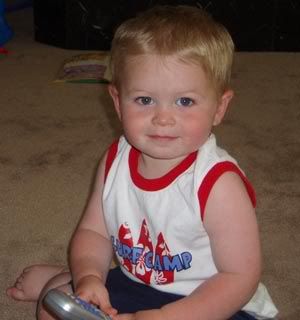 Getting big huh? Hard to believe he's 20 months now.... and still not speaking a word.
I decided to do
THIS
pattern for Zander... it's about time I knit something for him. I'm using a 100% cotton yarn so it will be nice to knit with right now during the hot hot weather, and yet I have plenty of time to finish it by fall! :-)
Yarn: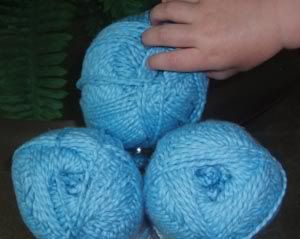 I had a yellow, blue, and white varigated cotton and the blue cotton picked out. I held them out for Zander and said, "which one?" He took the blue from my hands. I said, "really?" Took the yarn back... "You sure? Which one do you want?" Held them both out again. He took the blue yarn, and held it to him. Okay okay okay, I get the idea. Solid is probably a better idea anyway... my varigated choices always seem to pool. ;-)
Look what I got in the mail a few days ago: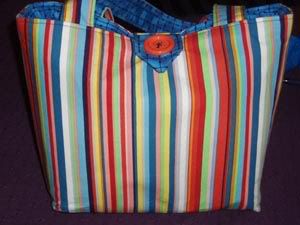 You gotta have one of these. Isn't it just the most fun thing you've ever seen? I've had it on my shoulder since Saturday... I think I look like a totally cute, hip mom with it! :-)
Contact
Sallee
at: nanasadieroseATcoxDOTnet to get your own!
That's all for today... Go check out The mystery stole along!!!
Until next time,
Knit some.
Posted by Melanie at 12:04 PM