Clapotis & Secret Pals
The Clappy for Christine is done!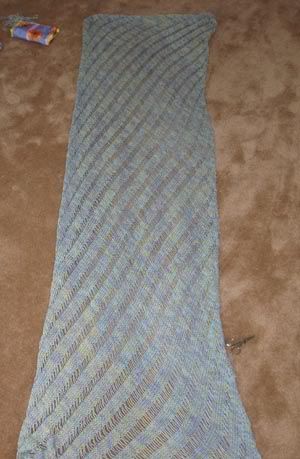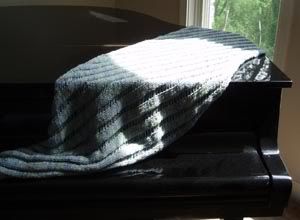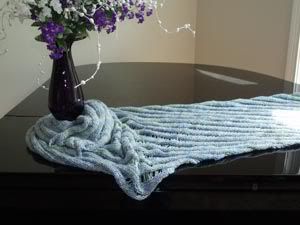 Also, I signed up for Secret Pals 5 Here is the questionnaire for the woman I only know as Alice Red.

1. Are you a yarn snob (do you prefer higher quality and/or natural fibers)? Do you avoid Red Heart and Lion Brand? Or is it all the same to you?
You know, this is funny. Like most I learned to knit with a ball of CHEAP acrylic. But my first project was a mohair scarf. I am on a one income military budget so if I want to knit and the funds are short I will use cheap yarn. But like most I think I prefer high quality yarns.
As far as the cheap brands I do NOT like red heart. I am using it right now for charity knitting and it's killing my hands. Please please please avoid! I do however like: Lion Brand magic stripes, wool ease, patons classic wool (love it). Any questions about a particular yarn in that department just ask.

2. Do you spin? Crochet?
I bought a drop spindle on eBay a few months ago. I have several ounces spun and several waiting to be spun. I do not crochet yet, but will eventually learn. I'm sure my heart will always belong to knitting though.

3. Do you have any allergies? (smoke, pets, fibers, perfume, etc.)
No allergies that I am aware of. I used to be a smoker and I find the smell still is hard for me to deal with. So avoid that please. Unless you want me to fall off the wagon. :-( I do have all the outdoor allergies... grass, pollen, ragweed, dander, and dust... but that shouldn't matter with this situation.

4. How long have you been knitting?
I learned as a young child from my aunt. She assumes I was about 7 or 8. She then re-taught me at age 16. I've been knitting since then, with a few year hiatus. I have jumped from project to project and haven't put the needles down once since December 2004.

5. Do you have an Amazon or other online wish list?
Yes, I do have an Amazon wishlist. I will e-mail you the link as I don't know how to put it on here. (Does anyone?)

6. What's your favorite scent? (for candles, bath products etc.)
I'm not a strong smell person, but I DO love lilac and lavender and peppermint or citrus smells.

7. Do you have a sweet tooth?
Who doesn't? But I like chocolate... not much candy, and I try to avoid it as I've just got back down to pre-pregnancy weight! :-)

8. What other crafts or Do-It-Yourself things do you like to do?
I like to quilt, but haven't in a while. It's not as portable or convenient as knitting. I like that I can pick knitting up for 1 row or 20 and the cleanup preperation time is the same for either.

9. What kind of music do you like? Can your computer/stereo play MP3s? (if your buddy wants to make you a CD)
I'm not picky about music. I like most things (besides rap which my husband--of course-- loves.) If I haven't heard it I love to learn and expand my knowledge! And yes my computer plays MP3's. I'm actually saving up for an apple Ipod right now.

10. What's your favorite color? Or--do you have a color family/season/palette you prefer? Any colors you just can't stand?
I'm not a big fan of red, but even if I had red I could knit my mom something with it... it's her favorite. I like neutrals but I'm not really picky about colors. I love using new colors/things so you can't go wrong with me on that! :-)

11. What is your family situation? Do you have any pets?
Hmmm, my family situation... good question. If you don't normally read my blog then you wouldn't know it's quite an interesting situation! Hubby (nick of 2 years) is in the US Navy. He is out to sea until November. So in the interest of saving money & my sanity I have moved back in with my folks. So I share my home with mother, father, my dog- Roxy, my parents dogs Codie and Zoey, and my 20 month old son- Zander. Pictures: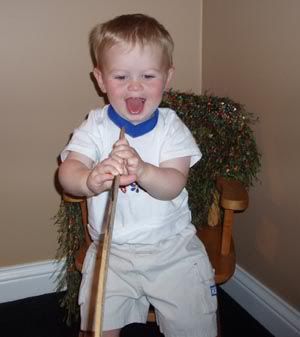 Zander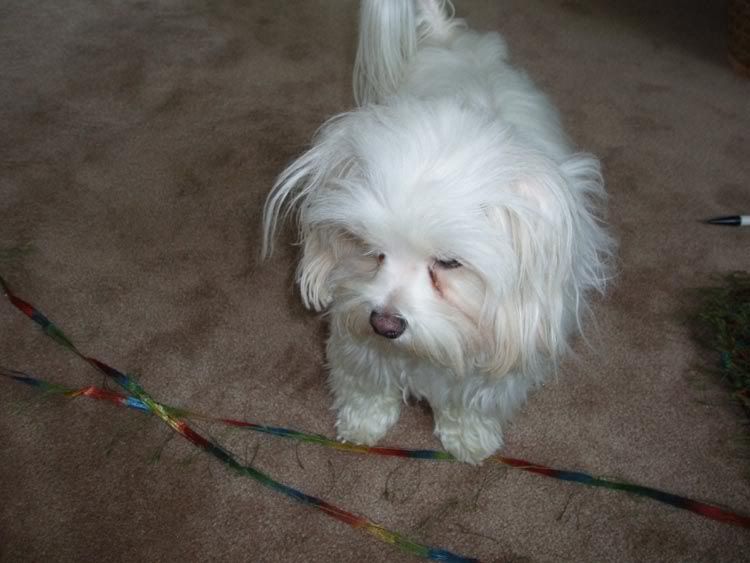 Zoey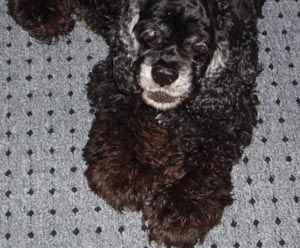 Codie

Can't find a picture of Roxy, but I know there is one on this blog somewhere.

12. What are your life dreams? (really stretching it here, I know)
My life dreams? I want to finish college, I want to be a terrific mother who raises her son well. I want to be a great wife and have a happy marriage. (That's not too "perfect life" for anyone is it? ha ha) Most of all I want to buy a house in Kentucky where I can be close to family.

13. What is/are your favorite yarn/s to knit with?
Merino Wool DEFINITLY!!!
I haven't tried alpaca, I heard it is super soft...so I guess I could say SOFT animal fibers!

14. What fibers do you absolutely *not* like?
Scratchy acrylics.

15. What is/are your current knitting obsession/s?
Felted Bags. Of course I usually have to change up what I'm doing so that I don't get bored... I've liked everything I've done. socks, washcloths, shawls, baby blankets, scarves, hats, etc.

16. What is/are your favorite item/s to knit?Woops, got a little ahead of myself... see above.

17. What are you knitting right now?
Right now I'm working on 3 blankets for Charity. I told myself when I got clappy & one blanket finished I could start my next projects: A felted bag in summery lime and purple colors. And a shawl from Folk Shawls.

18. What do you think about ponchos?
Very nice but they're... NOT for me.

19. Do you prefer straight or circular needles?
Circulars. I have a needle inventory spreadsheet let me know if you want it. Yes, I'm really that dorky! ;-)

20. Bamboo, aluminum, plastic?
I like bamboo and aluminum depending on what fiber I'm using. I have 2 pair of plastic needles, but HATE them. I've never found a fiber that works well with them. Not for me anyway. OF course... I have used the denise and love them. So maybe it's just the two pair of cheap plastic needles I have that I hate.

21. Are you a sock knitter?
Novice, yes.

22. How did you learn to knit?
My aunt taught me. Thanks Aunt Leslie.

23. How old is your oldest UFO? From January. I don't usually keep a UFO. If it's unfinished for TOO long I know I won't finish it and I reclaim the yarn! ;-)

24. What is your favorite animated character or a favorite animal/bird?
Hmmmm, As a kid I loved bugs bunny, but I could care less anymore. My favorite animals are dogs and cats. I don't like birds much.

25. What is your favorite holiday?
Oh Christmas! Without a doubt!

26. Is there anything that you collect?
Yarn & needles! ;-)

27. What knitting magazine subscriptions do you have?
None. If I want a magazine I'll go buy that issue.

28. Any books out there you are dying to get your hands on?
I'll send my amazon list... I need to update it. But there are several books I'd love to have. And I'm tossing ideas around in my head to knit my son, Zander, a sweater for this fall... so I'll have to find some cute toddler knitting patterns.

Hope that helps!!!



Finally.... to anyone that isn't my secret pal and is still reading this:
wool of the andes from knitpicks.com.... is it soft? or itchy? I was thinking of making my shawl from folk shawls out of it.

This is the one I'd kill to make: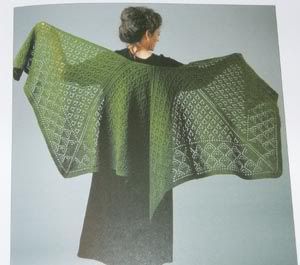 But I think it's a little too advanced for me. So I'll probably make this one: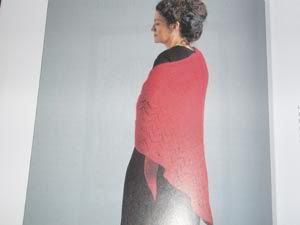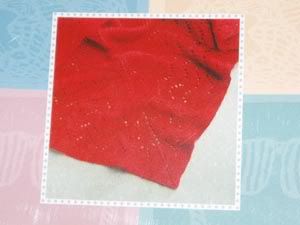 It appears to be a little easier... it's garter stitch and the bottom is the lacey/challenging part. What do you think?

Until next time,
Knit some!

Posted by Melanie at 12:04 PM