A Perfectly Pretty Pink Package on a Totally Piss Poor Day
I'll tell you what... if I have to deal with insurance crap for much longer I'm going to jut fall over and die. Okay so I'm being a little overdramatic, but I swear... remember the car fire? Yeah, faintly, right? You know, it happened MAY EIGHTH. That's over a month ago, just 2 days shy of 6 weeks ago, and I'm still dealing with insurance people. I sent them receipts totaling $724 today... for rental car and car seat... they will sending me a check for $580. Apparantly they don't pay taxes for my rental car. Gee, that's swell...
I'll just tell that to the government!!!
Or maybe I'll just tell my car that next time it decides to catch on fire could it first spit out $120 in cash to re-emburse me for the taxes I'll have to pay out of my own pocket to drive a SHITTY rental car around for 3 weeks. All I want is my car back. I don't want their checks, I don't want to go car shopping, I don't want this new car seat, I just want MY car back. My rental car company charged Nick and I a $15.00 fee since we were under the age of 25. My insurance won't pay that either. I said to my (new) claims examiner, "well next time my car catches on fire I'll just tell it to hold off until I'm 25." Truth of the matter is I'm a lot more grown up that most 25 year olds I know! Give me a break...
Anyway, so, moving onto my pink package.

I think I'll change the font for the

occassion! :-)
This was in my mailbox when I arrived home from running around doing all the insurance fun stuff.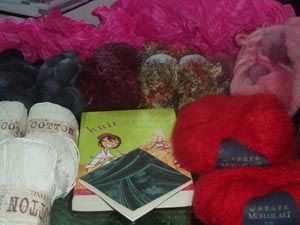 Let's break this down, shall we? :-)
In the upper left hand corner we have (i'm assuming) hand spun/dyed wool. The charcoal-light grey colors are absolutely stunning!!!
The next over is a purple, raspberry loopy yarn which I'm also guessing to be handspunl/dyed. It's such a professional color I wonder if I'm allowed to wear it! ;-)
The next yarn has colors that are just SOOO me! It's Patons Whisper. I went to find a link of the yarn on paton's site but can't find it... my pal is from London, I wonder if that has anything to do with it. It's a very pretty eyelash yarn. 196 yds total.
Next is roving... lots of roving... from pinks to purples and back again. I'm going to try my darnest to spin this into a sockweight and make something lace out of it. It almost makes me want to blow my money (what little I have) on a spinning wheel. What kind of wool is it Ms. Alice Red from London?
On the bottom left we have a gorgeous soft white cotton from sidar. 4 skeins at 158 yds each. 632 yds... I think I should make something for Zander out of it?
Next is the book... "It's my party & I'll knit if I want to" By Sharon Aris. I couldn't put "At my Knit's End" down... I loved it... this should be at the same level in my interest! Can't wait to pop it open.
See the tiny little square ontop of the book? It is a charming little notebook. No, Zander, this is my notebook, you may not draw me any "pretty" pictures in it.
Next is Jaeger Mohair... 3 skeins at 164 yds each- 492 yds... since I look awful in red I will be making my mother something out of it... it is her FAVORITE color! :-) What do you suggest I make for her with 492 yds?
And...I just realized the best gift in the whole box got cut out of my picture ... here:
http://www.theknittinggarden.com/ja-cashmina.htm
DISCONTINUED [added note: why is it that when a yarn is discontinued do we want to scoop it up like we've found gold?] Jaeger Cashmina. CASHMINA. CASHMERE. And not a yarn with 5% cashmere... this stuff is 80% cashmere! 20% merino... which we know is my favorite... There are three balls of 137 yds each (411 yds total). It is a fine yarn... so I'm guessing it will become a lacey scarf for me. You hear that... ME! I'm not lucky enough to own a closet full of cashmere sweaters (yeah, Oprah, I'm talking to you) so by golly this wonderfully chocolatey cashmere yarn is mine, all mine, and I will not share it with anyone and I will enjoy stitching each lovely stitch...
I'm off to hug my cashmere and watch some telly before Zander wakes up. Thanks Ms. Alice Red, you ROCK!
Posted by Melanie at 1:21 PM