PICTURES!
Want pictures? You gott-em.
Mother Dearest is letting me borrow hers. When uploading knitting pictures I also found these:
Zander & Cousin Claira in April. They were so funny. The two of them would climb under the coffee table. Claira would start babbling to Zander and Zander just stared at her. Such typical behavior of men and women, don't cha think?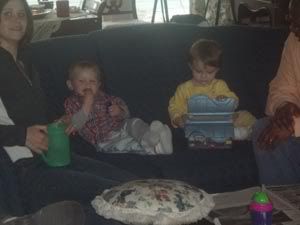 And there's me trying to lean out of the picture.
Here is Zander driving Grandpa's ski boat. Just look at that concentration.
Here is the fish mom caught Memorial Day. She really thought we could eat him. Blue Gill. Wouldn't have been bad, but do you see the size (lack thereof.) You think she'd learn after almost 14 years of boating that only the BIG fish are worth the work of eating. Then again, she DID think it was a big fish. hehehe.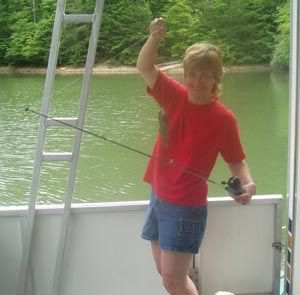 Zander swimming: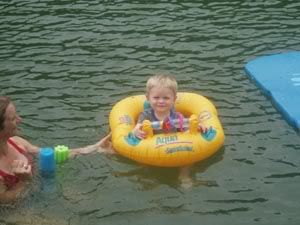 Mom and Zander knitting: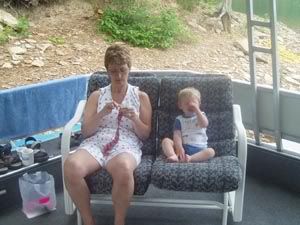 Here Zander and I are sitting on the shore throwing rocks into the water: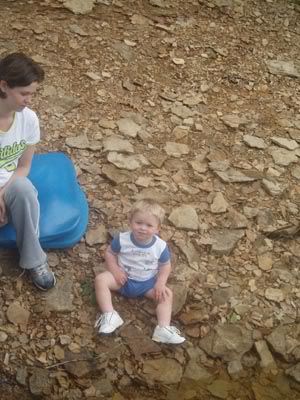 and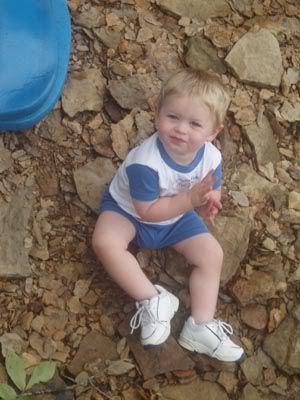 Okay, enough of that... onto the knitting.
First up is my lace project for the mysterystolealong. It is SOOOO slow going, but definitly worth it. It's hard to see what it looks like, but such is the way with lace... wait until it's done and blocked! :-)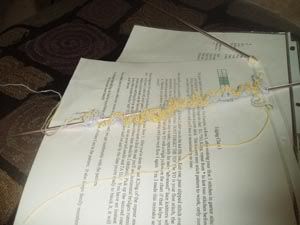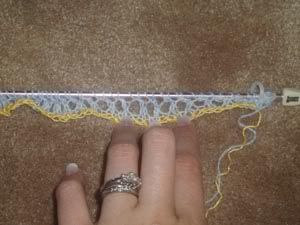 This picture was taken after the completion of row 3. The yellow yarn is from the Provisional cast on. I will later be pulling it out and have live stitches underneathe so I can continue knitting from the bottom without picking up stitches. Pretty cool, huh?
Here is the shawl from folk shawls. Does't look like much yet... I have 166 stitches on the needles... once I get to 231 stitches I'll start the fun lace part. The straight part at the bottom is actually the top... it will be triangular.
And finally, Zander's sweater. The back is almost complete.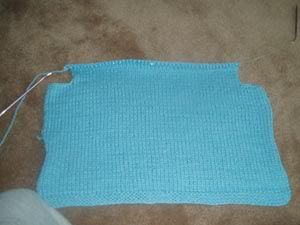 And I really need to get back to my charity knitting. I'll try to have an update of the Big Bad Baby Blanket next time I post.
That's all... knit some.
Posted by Melanie at 9:39 AM