Finished Objects and Unnesessary Beginnings.
Finished Objects: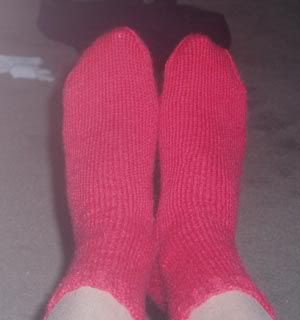 Mom's Socks.
Details:
Date Started: April 15th, 2005
Date Complete: July 10th, 2005.
Yarn: Paton's Kroy
Needles: Size 2
Pattern:
www.burninghand.org/sockpattern.html
Lesson: I love that pattern. I will use it for most of my socks I think. I also think solid color sock yarn is incredibly boring unless you're going to do a pattern or something. I'm not sure about this sock yarn. It splits easily. But it's the only brand I've found with plain yellow sock yarn (does someone know of another brand) & I want to make my mother-in-law a pair of yellow socks.
Well, as you know, I couldn't complete these socks until the needles were replaced. I went to my LYS the other day to replace them and didn't intend to buy anything else. Isn't that the way it always is?! But Zander was SOOO well behaved, so I just kept shopping. This is what I brought home.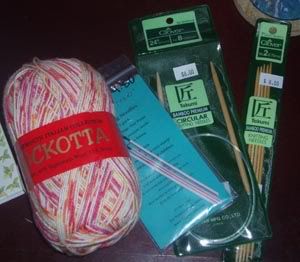 From left to right. Sockotta sock yarn in color: 6670. Felting Needles from Fiber Trends to finish my felted summer bag. (I just need the roving... what color should I buy for my bag?)
I also got a pair of 24" size 8's. (Zoey chewed those too.) and the size 2 DPNs that I actually went for.
And I told myself I needed to finish 3 projects before I was allowed to start anything else. So I won't even mention what I cast on with my size 1 aluminum double pointed needles. ::COUGH COUGH "SOCKOTTA SOCKS" COUGH COUGH::
And finally... look at Zander... he's actually starting to click the needles together. (he also got a summer buzz cut.)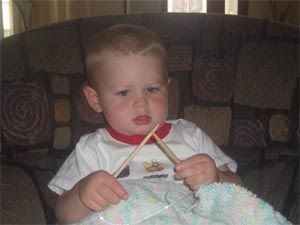 Until next time, knit some.
Posted by Melanie at 8:42 PM