Happy Mail Day
So I got two things in the mail today.
First and MOST important: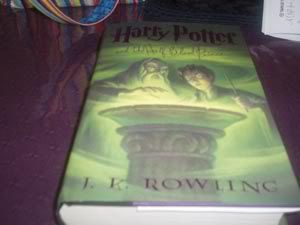 Also delivered was: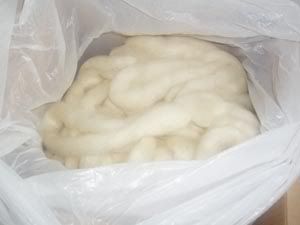 Which is
THIS.
I will definitly buy from
Blue Goose Glen again!
(No affiliation... I'm just tickled pink and will have to resist spinning this stuff right up.) It's SOOO soft and drafts like a dream!
So... I want to dye this (I think. hehehe.) And was thinking of making it blue green and yellow... should I dye it in this unspun state or spin and then dye? You can get more control dying it in roving form can't you?
Hmmm, decisions. I'll fondle it and think about it in the mean time. :-)
I already took some of the beautiful Leicester and dyed it like this: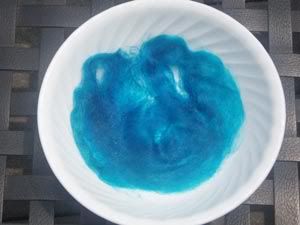 so that I could use it to needle felt onto my summer bag. My summer bag looks like this for those that don't remember: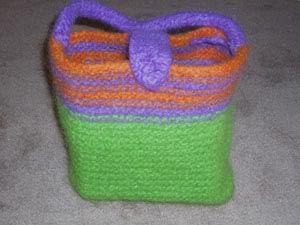 then that project will be complete... and I'll still be able to carry it for about 1.5 months! Now that is a knitting accomplishment in my eyes! Finishing a project in the season it was destined for. I'll be SO proud! ;-)
Speaking of FO's. I present you with the Big Bad Baby Blanket: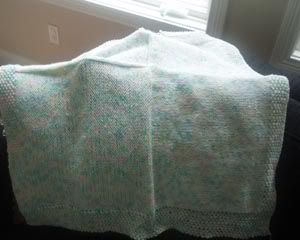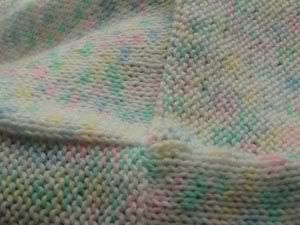 IT IS FINISHED!!! WOO HOO!!! TAH DAH! Amazing what some determination will do. I will make another one for warm the world. But the next one will be multiple colors. This was boring to knit, but very cute and nice to look at!
That is all for now, I must return to the Half Blood Prince. Oh yeah, by the way... for those counting, I have only 1 more project to complete before I'm allowed to start another one! YAY!!!!
Until Next time,
Knit some.
Posted by Melanie at 1:34 PM