HELP-- Please post knitting advice
Okay... so moving right along on the Big Bad Baby Blanket...BUT WHAT IS GOING ON HERE? I feel like the biggest novice knitter!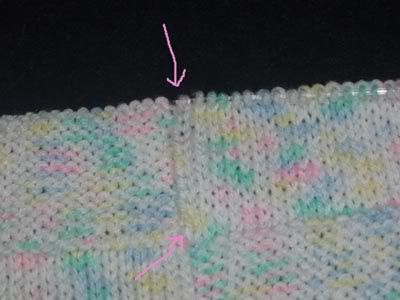 As you can see it goes from a knit stitch to a purl stitch... see that last set of knit stitches (arrows)... that vertical line has a tension MUCH different from the rest. I have pulled hard 2 stitches before and 2 stitches after the change and it still comes out like that... why... There is no problem down below when it goes from purl to knit... how do you stop that?? Please help me... I can't believe something like this is stumping me sooo badly... but it looks awful and is driving me mad!!!
By the way... I sent off a package to my secret pal today... I hope she likes it... I'd like to say what's in it, but I'm really bad about secrets so if I open up and start talking I probably won't stop!!!
Secret Pal 5
is soooo much fun.
That's all for now... I think I'm going to catch a few zzz's before Zander wakes up from his afternoon nap!
Until Next Time,
Knit some.
P.S. Ruinwen-- I will e-mail you back shortly... I have info on the progress bars for you! :-)
Posted by Melanie at 1:46 PM