My Good Buys
So, last weekend I went to
Knit Happens
in Cincinnati, that is closing down. Look what I got! :-)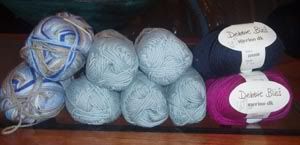 From left to right, 2 balls of regia sock yarn, 5 balls of Debbie Bliss Cotton Cashmere, and 1 ball each of black and pink Debby Bliss Merino dk. I love yarn!
My mom made it to the shop a few days before I did and thought of me. She picked up these: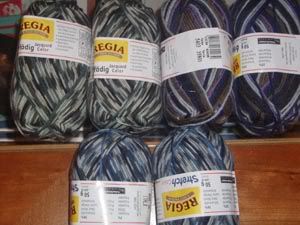 6 more balls of regia sock yarn. The top left is green, grey, black and white. Very masculine... what man in my life is deserving enough of a pair of socks? (Please don't say dad. I'm about to kill the man!) The second is an absolutely beautiful purple, blues, brown colorway. We all know how much I love blue and brown! And finally, a mix of blues, greys and whites. These will be for my cousin Michelle that requested a pair... she wanted just "grey" socks...but how boring is that! ;-)
Also, a better picture of Kari's Baby blanket... because the picture yesterday was crappy: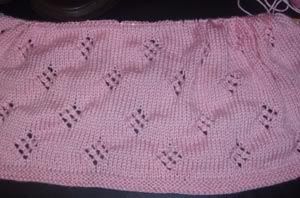 It's coming along nicely... but I'm dieing to start something else... another project for warm the world or a tank top, or felted bag for me, or a pair of socks.... or SOMETHING!!
And finally a finished simple project I did a little while back: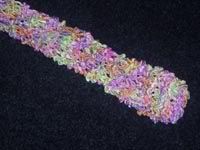 A belt made of ribbon yarn.
Until next time, knit some.
Posted by Melanie at 8:41 AM