Stressless Knitting
Piggoia
stopped by yesterday and told me to keep knitting the stressless stuff to help me with this next "stage" in my life. Which is exactly what I'm trying to do... except THIS doesn't help: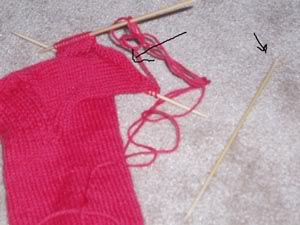 "What?" You're probably saying. I say, look at the first arrow on the left. That is where a needle SHOULD be. I found it in this state this morning. "So put the needle back in," you might say. Well, take a look closely at the second arrow. That is where a creature ::COUGH COUGH ZOEY COUGH COUGH:: has chewed my needle. Brilliant huh? All I can say is good thing I only use 4 needles. But right now I don't even want to look at it. Stupid dog. It'd be one thing if I broke the needle, or pulled it out of stitches, but it was that stupid little white fluffy dog. I hope Zander chases her lots today! ;-)
But on better news
Kathy
really got my butt moving yesterday on the big bad baby blanket. I show you exhibit A.
For those not familiar with the "Big Bad Baby Blanket" this is the half-way mark. Above the knit side will be a purl side, and vise versa. When it's done it will look like 4 squares. Thrilling huh? Yeah, I didn't think so... moving on...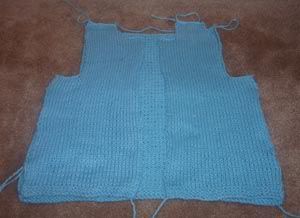 This is Zander's Cardigan as it stands now. Two front pieces and a back piece. All that's left to do are 2 sleeves, a hood, button band, and seaming. Okay, typing that all out just made me depressed... maybe I'm not as far along as I thought. Gee thanks dear readers. If you weren't interested in my progress I would have never typed it out, and then I would still be in my ignorant bliss. HUMPH :-(
But with non-knitting news... here is Zander yesterday vacuuming up his mess. He loves to eat his snacks on the rocking chairs as you see here... but about once a week I have to get under the cushions and vacuum out loose pretzels, goldfish, and cereal as to not attract bugs. Zander has suddenly had a HUGE interest in the vacuum cleaner. "GREAT!" I think. "He can start cleaning up his own mess." So I get the vacuum out yesterday, plug it in, pull the cushion off and tell him to vacuum out the chair. This is what he does: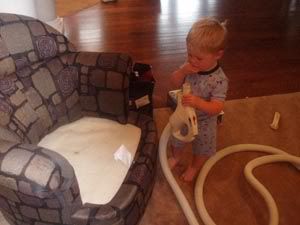 Yes, he's EATING the crumbs. I don't know how old that goldfish was that he put in his mouth, but I can only imagine it was a little crunchy. As for the vacuum, it was on and running, and as he kept eating [and I kept laughing] he started to forget about the running appliance. All the sudden he is screaming, and I look over and the vacuum is attached to his crotch. Now, I'm SURE he's much to young to think of THAT trick ;-) But oh my God did I get a laugh. No picture of that unfortunately because I had to amputate his "new" limb quickly to avoid a major meltdown from my VERY freaked out son. I want grandchildren at some point in my life so I'd like to not scar him TOO badly.
Thank God for children!!!
Knit some!
***ADDED STUFF***
Look what I walked into the room to find after a potty break: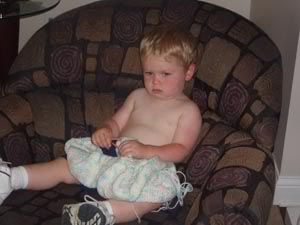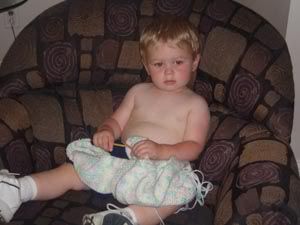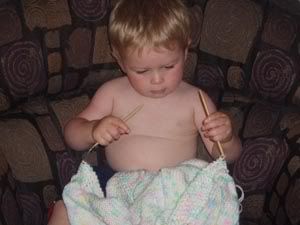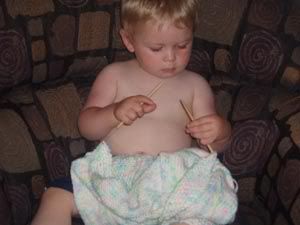 Posted by Melanie at 8:17 AM