TAH DAH!!!
Here it is: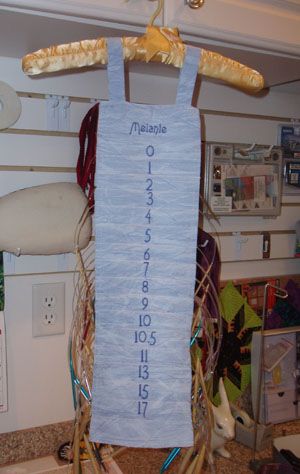 It works, but I know I'll replace it... here's one reason why: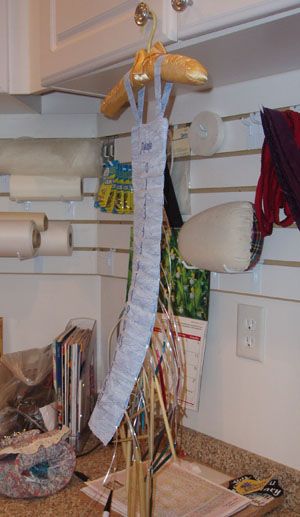 The weight of the heavier needles being on the bottom really distorts it. I also think the 1" slots aren't big enough. I know like many knitters I have several of certain sizes... 16", 24" 29" and 32". Once you start threading more than 2 (especially in the bigger sizes) it really starts getting tight.
It is also a little long... I don't remember the exact measurements, but when you add the length of the needles it hangs down and takes up way too much room. It'd be better as a shorter wider holder. I already have sketches for my own design drawn out. It will include storage for straight needles on the back as well. Mom (the seamstress of the family) will help with the details, such as actual construction and fabric yardage. I may even sell them. We'll see.
Speaking of needles:
Rebecca,
your guess of 54 was closest to my actual number of 55. :-) E-mail me with your snail mail address and I'll get your two balls of sock yarn out to you! :-) (ZandersmommyATgmailDOTcom.)
For those interested... I have 3 cable needles, 12 sets of straights, 12 sets of DPNs and 28 sets of Circulars. See why I needed a circular organizer? hehehe. I got every answer from 27 (
Kathy's
) to 125 (from Penny, whom I think doesn't have a blog.)
That certainly was fun... I'll do another one soon. :-)
Posted by Melanie at 12:29 PM 0 comments