1 sock, 2 sock, red sock, blue sock
Here is the first sock complete.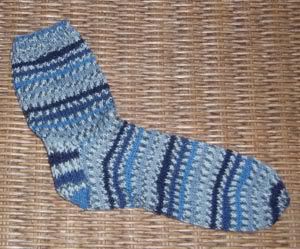 And isn't it absolute blissful magic that my 2nd sock is already to the heel flap. None of that "I hate casting on" stuff. Because we all know that casting on in the round on dpn's is the worst thing in the world!
Anyway, specs on this sock. It took me 5 hours and 3 minutes to complete it. I absolutely LOVE the comment I received yesterday from someone who says it takes 1 trip to her MIL's house to complete 1 sock... so each round trip drive is a pair of socks! What a fantastic way to measure time! What is your blog, sweet sock knitter... I would love to give you credit!
Also in comments
Kathy
wanted to know what sock yarn this way. Regia Stretch colour #91. You can find it
here.
I bought mine from an LYS that was closing for $3.00 a ball (SCORE!) but their price of $4.48 isn't bad either... get knitting socks Kathy! We have proof that you can!
Onto turning a heel.
Until next time,
knit some.
Posted by Melanie at 11:49 AM