1/2 sock here, 1/2 sock there
I started knitting thsese socks in Connecticut. I completed the heel flap but couldn't remember (without my pattern/sock chart) how to turn the heel, so I put the socks on some extra needles and started the second sock. On the second sock I've now turned the heel, picked up gusset stitches and shaped the gusset. I'm half-way to the toe. These socks are going quick. I just started them last monday. And to think that when I' m done with the first sock I'll already be ready to turn the heel on the 2nd sock. KNITTING VICTORY!!!
I'm awaiting my yarn for
Hopeful
which I hope to be able to knit on in class. I also have a felted bag to make my sister, a felted bag for me (which is in autumn colors so it needs to be bumped up and started and completed,) I need to finish Mark's scarf, which I have been working on in the past week since getting the rest of the yarn. I also have Zander's cardigan which I just do not have good feelings about anymore. I physically can not force myself to work on it. It's awful. And he turns 2 next month!!! :-(
That's all for now... I found my digital camera card, and will post pictures tonight or tomorrow... I promise.
Until then, Knit some.
*Edited: true to my word here are pictures of the socks.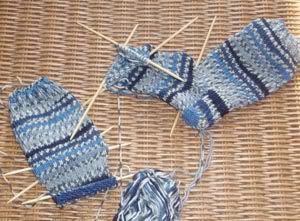 The one on the left is done to the heel flap, the one on the right is halfway to the toes! YAY! KNIT ON!
Posted by Melanie at 7:44 AM