August Goals
1. Finish Kari's Baby's Blanket
2. Finish preparation for striped tank top. (My guage is different... I am embarking on the world of altering patterns!)
3. Finish hood and one sleeve on Zander's cardigan. I would love to finish it up, but highly doubt it.
(Thanks Kris!)
Anyway... if you look over to the right on my progress bars you may notice that my green peddler's shawl is now Resting In Peace. Last night I sat down on the floor and unwound it. (It's REALLY time for me to get a ball winder. Where's the cheapest place?) Here is the shawl in happier times:
Why did I rip it? Well, I didn't even like it. When I saw it in the bottom of my bag I almost cringed. "There's one more incomplete project staring me in the face." I knew I wouldn't get it done and I really didn't want it haunting me. I'm really having a whole, "finish projects" issue right now.
So anyway... that shawl has become 4 skeins of yarn that are drying on my deck. I'd show you a picture except my camera got broken yesterday. It's totally my fault for leaving it out but Zander broke it. There's something I really want to spend the money on. :-(
Anyway, I think I'll eventually make the shawl I really wanted to make from the beginning with my green yarn: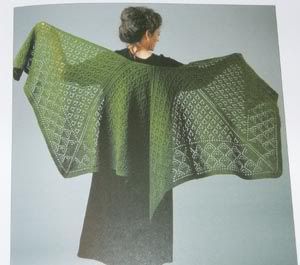 If it's a project I actually like I might actually finish it, no? ;-)
Until next time, knit some.
Posted by Melanie at 10:03 AM