A Confident Knitter
I've realized that Knitting is much like any other hobby or sport. You are only as confident (and capable) as you think you can be.
Meaning... I shouldn't be worried about the Fair Isle Cardigan. It's something I've been wanting to make for about 8 months now... so I should just dive in and do it. I will prepare myself first... get a better chart of the fair isle.. maybe one of those
magnetic reader
things for ease in reading the charts. Maybe I'll take graph paper and make the charts bigger and in color myself by hand. I'll definitly use the two handed stranding method to make it easier and quicker than picking up and dropping. I already know how to knit contiental, I'll just need to take my next project (either hopeful or my sister's felted bag) and master purling continental. That would be a good thing anyway as I've really wanted to convert over to continental for a while now.
Anyway, this morning was spent proving to myself that I was a confident knitter. First, behold my "confident-I-was knitting-too-fast-and-not-paying-attention" mistake. See the knit stitches that should be purl stitches?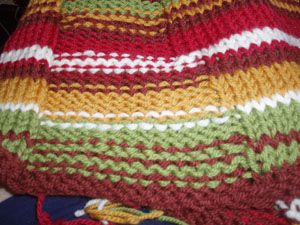 Wait... back up... first off, what you're looking at: The purl stitches are the sides of the bag, the knit stitches are the front and/or back. the purl stitches should be a straight line UP the bag... not staggered (like it is.)
Okay, moving on. If I had done this is the past I would have said, "oh well, it will felt," or "FUDGE." I would have then taken it off the needles and frogged back 4 hours worth of work and put it back on and continued. And then I probably would have grown to hate the project and I probably would have never finished it. Not me, not today. I'm A Confident Knitter. I knit to that spot and dropped the stitches 10" down... I then proceeded to pick the stitches back up purlwise. And now: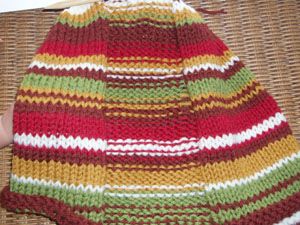 Perfect.
Anyway, so then... after I did that I really didn't want to look at the bag so I decided to trade my mom. I'm working on this for one of her customers' new baby: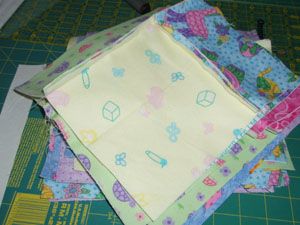 It will be a rag quilt. But I said trade... what am I getting out of it?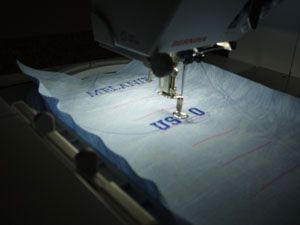 Which will be this: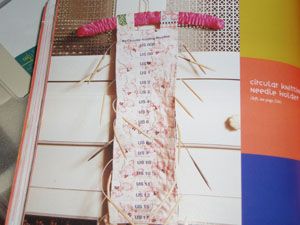 (The circular knitting needle holder from Stitch n' Bitch.) I took a picture of my circulars now, but it's so disorganized (thrown in a drawer from my dresser) and embarassing that I won't even show it... but I'll show you once it's done. I think mom will be able to finish it today... well, she thinks so, so I'll have faith in her even though I'm not 100% sure. ;-)
Anyway, I forgot how much I liked to quilt. Mental note to self: Pick it back up when Zander is old enough to not care about the sewing machine, and is old enough to play by himself for hours at a time.
I'm off to knit... anyone have any thing fun to tell me?
Posted by Melanie at 12:55 PM