Overall Update
I'm trying to get into the habit of blogging more regularly so I decided to kind of catch myself up, and give myself reminders of what my "knitting goals" are.
First, here's an update on the irish hiking scarf. This will be done VERY shortly. There is only about 10" to go.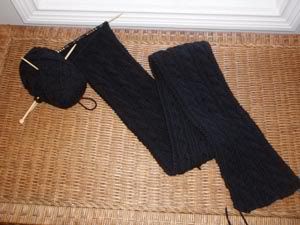 I can't wait until I'm done with this.
Next items to be cast on are a felted bag for me, a felted bag for erin, and "hopeful" from thisgirlknits.com. (I'm too lazy to HTML the link in there.)
Here is the yarn for my bag: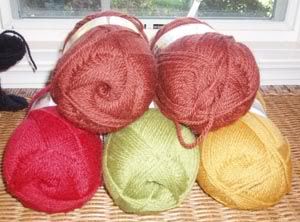 As you can see this is very much an "autumn" bag. The pattern I'm using is from the book "pursenalities" It's the carpet bag. I need to get this one going because fall is RIGHT around the corner.
I'm doing another bag for Erin... also from "pursenalities." With Wool of the Andes in pink, black, and white, from knitpicks.com. [Yarn on order-- pictures to come.]
Finally, I'm doing "hopeful." Which I think/hope will make great class knitting. I can't take the bags there as there are too many balls of yarn and that will get messy.
I start school today, in just a few short hours. I'll be taking michelle's sock with me. Wish me luck. (For school, not knitting.)
Thanks!
Posted by Melanie at 11:42 AM