Um... Knitting
For lack of a better post. I've been knitting. And this is all I have to show for it.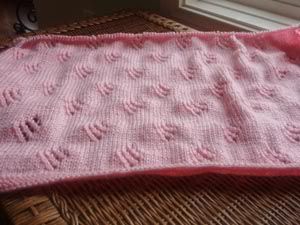 The same boring baby blanket. Over and over... diamonds, diamonds, diamonds. Now I know how
Stephanie
felt with the
BBB Blanket.
(Renamed as the Big Boring Baby Blanket.)
But lucky for Stephanie she is exciting and finds other fun things to talk about. Me?
I have this: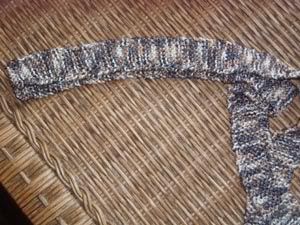 A belt. A Big Bad Boring Belt. Although it's cool and I love the yarn (Lana Grossa Rotanda print- cast on 8 stitches on size 7 needles.) How boring can I be? I've resorted to knitting things that bore me. YUCK! And now I'm boring you!
I hope Kari knows how much I love her and her unborn baby! And stupid me for saying I can't cast anything else on. I have a tank top in the works (in my head, not my hands) so once I get half way through Kari's blanket I MAY allow myself to start it.
Upon other news... I start school on the 22nd of August. I'm a little nervous.. I'm starting to become older than some of the students, I haven't been to school in over 2 years, so I'm outta practice and I'm concered about the lack of knitting time. So I asked
Kris
how she gets away with knitting in class. She recommends sitting in the back, knitting something simple, making eye contact and of course, taking notes. She said a professor has never said anything to her. So I think I will try. By the way... check out that
SWEATER!!!
The things I aspire to. Definitly NOT boring!
Posted by Melanie at 1:57 PM