Almost Finished Objects
Okay here we go...
Erin's bag pre-felting (all I have left to do are the i-cord handles:)
The dimensions are 17" wide X 18" tall X 4.5" deep. This bag was slightly annoying to knit.... but it looks SOO "divaish" just like my sister, Erin.
picture reminder of Erin: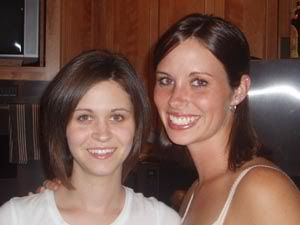 Total Diva. I don't understand how 2 siblings can be sooo different. And yes, she's my younger sister, and yes, she is taller than me. Much taller than me. She also has bigger boobs. But I don't like to talk about it.
And now.... here is Dick's first completed sock:
Do you remember the plain red socks I made for mom?
Here.
Read my lesson learned. "If I ever use solid color sock yarn again it will be with a pattern... not plain boring red, knit socks." A lesson learned is not a lesson learned unless it's actually LEARNED. DUH! Anyway, the good news is that it only took me 5 hours to knit this sock... so that's only about 2.5 days of knitting... I should be able to get it done in the next week or so. [cross fingers]
I'm already beginning to think of October's goals and September isn't even over yet. I still have to do my swatch for my fair isle cardigan. I may get to that tonight. We'll see how good I feel after 7 hours of lecture.
Added:
I felt guilty after walking away from posting that I haven't started my fair isle swatch yet. But I have done preperation. So, more for myself than anyone, here is proof of the effort that I've done:
I blew up the chart (which was a bigger feat that I care to share-- the printer/scanner was acting up.) and I've wound a few bobbins. I still need to wind the tan, purple, and green. I'm not sure if bobbins is the right way to go with such a large project but it will work great for the swatch... with the last few felted bags I've done I've learned that I HATE balls of yarn swinging everywhere... these will be much smaller. But it will probably mean many more ends to weave in too. I'm still really questioning my green choice. I'm beginning to think a mint/pastel green would be better. We'll see how the swatch comes out.
Posted by Melanie at 11:00 AM