Birch Pattern Plea
Look what I got in the mail today: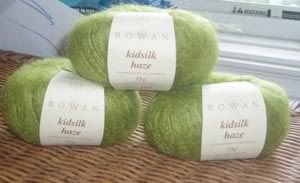 My dilemia/plea? I am unable to afford to buy the pattern right now due to some major financial constraints I was just made aware of. (Nick dumped the savings account and ran... good judgement call in marrying him, and not getting divorice papers filed sooner, huh?) So I was really hoping to knit this anyway, because I could really use it as a comfort/prayer shawl right now. And I think the action of knitting this would demand a lot of attention which would be very helpful in keeping my mind off of things for a little while everyday.
So anyway, my plea... Does anyone have a copy of birch that they could live without? I'd be willing to trade... you know, black and white copy for black and white [photo]copy. (shhh, don't tell) I have rowan's calmer book which has a ton of neat patterns I would trade for. Check out the patterns for rowan calmer
here.
Please e-mail me at zandersmommyATgmailDOTcom if you'd be willing to work something out.
I know that kiri is a free pattern on the web, and although I like the pattern and intend to make it for my mom with the red jeagar mohair my secret pal gave me, I just really wanted to make birch (without the center increasing holes that kiri has) for myself.
Thanks much!
Posted by Melanie at 2:53 PM