Calmer Today
Today I am calmer about my blog mishap last night and I'm also going to speak of calmer.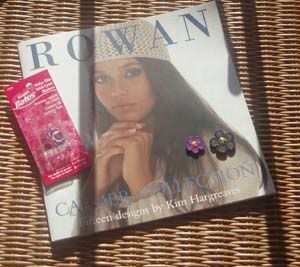 Mom, Aunt Leslie, and I went to a new (to us) yarn shop. It was well worth the 40 minute drive. Well, I didn't drive, mom did. I sat and knit. That's always worth it! ;-)
The yarn store was 3 seperate rooms of yarn. It was spread out and displayed nicely so I didn't feel like I was forced to look at too much at once. My only complaint was they didn't seem to have the things people actually needed. I needed rowan 34. They had a TON of back issues, but not that one. Leslie needed Cascade 220 in Black. They were out. 2 other people needed stuff (one needed a size 8 10" needle and the other a specific yarn.) Reply to both of those women was, "we're out." Lousy ordering skills ladies.
Anyway, since they didn't have rowan 34 I saw
this
calmer book. I want to make 7 different things out of it. Now THAT book was well worth the purchase price of $15.00
1. Whisper
2. Soul
3. Loll
4. Hush
5. Hearten
6. Cloud
7. Air.
The only problem is the cost of calmer. I'll shop around and end up buying enough to complete on of these projects (because Calmer is SOOOO soft)-- But for any more of them I'll probably end up buying something with similar gauge.
Look whatelse I got. More susan bates stitch markers. I love the wafer thin ones. Only problem is they seem to disappear [zander] so I had to stock up. I know they'll be handy for Birch. See the buttons I got also?
The purple one is for my felted summer bag, and the black one will be for Erin's felted bag.
Okay, enough for now.
Posted by Melanie at 2:16 PM