Hopeful to finish
After 10.5 hours of knitting this is what I have: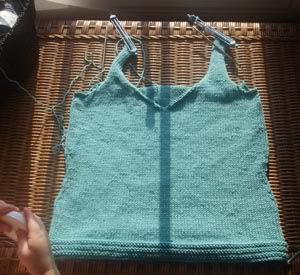 Looks like I'll be pretty close to my estimate of 16 hours. I hope to have it done to wear to work this weekend.
That's a "completed" front (shaping is done... still need to add the collar) and I have started the arm hole shapings. Zander has seen me measure this thing a million and one times in the last 7 days so there he is in the bottom left corner with my tape measure getting ready to help!
Speaking of hopefuls, check out
Claudia's
.
Stunning huh? I hope mine looks that good. I'm still debating whether to make the little tassle things in the front. I think I might like it a little more plain, but then again, maybe when it's completed I'd end up saying, "ooo, it needs something."
So far (knock on wood) this has been an enjoyable knit. I did end up altering the neckline slightly so that it wouldn't be AS low cut.
Mom and I went shopping at Hancock Fabrics this morning. All their notions were 50% off. I walked out with: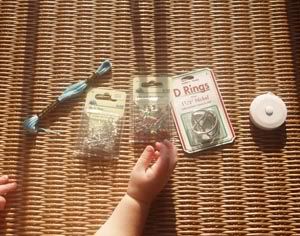 That's dmc floss for the little bit of finishing that is required on Hopeful, pins for blocking 4 d-rings (for two daria noro belts) and a tape measure. All that for $6.00. I feel like I made out. I love "dollar items." ;-)
That's all for now, off to get dinner ready.
Happy Labor Day.
Posted by Melanie at 6:08 PM