Let's Aggitate!
First off, I received two comments regarding my "five hour sock." Was that truely that fast? I used size 7 needles, and worsted weight wool. But the leg is 9.25" from top of leg to the top of the heel flap and 11.25" from ankle to toe. It's a monsterous sock. I've always viewed myself as a "slow" knitter, but am glad to hear that it seemed quick. WOO HOO!!!
Anyway... here she is... ready to go in the washer (after zander wakes up from his nap, as the laundry room is directly above his room. too loud.)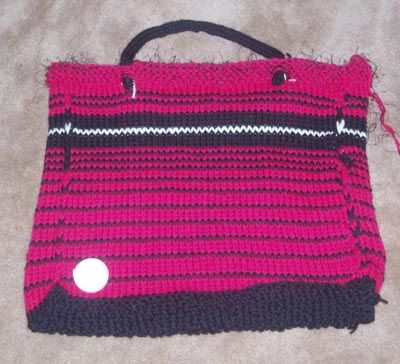 [The white tape measure is there for size reference.]
I was really worried about getting this done in time for my Sept. goals... but it's all in the washer's hands now.
Now all that's left to do is my fair isle swatch. yeah yeah, I'm going I'm going. Right now. Geez.
Posted by Melanie at 1:38 PM