Like I Need A Hole In My Head
I need another project [that's right folks, say it with me]
LIKE I NEED A HOLE IN MY HEAD.
And yet, what do we have here?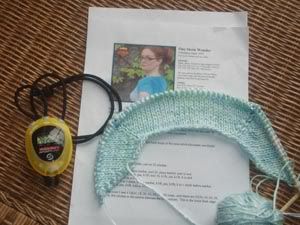 My, my, it's a one skein wonder. And what yarn is that? My friends, that is beautiful heavenly, open your mouth up and drool silk. Gifted to me by none other than my secret pal Nic. Was I lucky or was I lucky?? It is heaven to knit with and I think it will be heavenly against my skin. And it only takes 100+ yards. Yeah!
And yes, I still only have 3 projects on the needles. But I am doing AWFUL with my September goals.
1. Finish "Hopeful."
Yeah, right. Even if I wanted to cast back on for it (I don't) I wouldn't be able to finish on time.
2. Start and Complete Erin's Felted Bag.
Pattern? Where's the pattern? I loaned the book out but was smart enough to make a copy of the pattern before I did. Now where did I put it?
3. Finish Soldier's hat for Charity.
Okay, so this one's done, but REALLY... it only took 2.5 hours to knit, so that's not much of an accomplishment.
4. Begin "Birch."
I've started.
5. Swatch for Fair Isle Cardigan.
Not so much. I'm scared. This is a monsterous project. I knew better than to say I would swatch for it if I am also working on birch. that is also a big project.
So yeah, I needed the One skein wonder like I needed a hole in my head!!!
P.S. I found a boy. Okay, so I know that I'm not even CLOSE to there. But the fact that I could have a conversation with a guy without thinking, "I'll bet he's a scumbag" is a good thing, and it's a step forward, right? And he is cute! ;-)
Posted by Melanie at 12:43 PM