Rascal Flatts & Secret Pal Gifts
Check these out! Picture heavy post again.
This is me and family before I went to the rascal flatts concert last night.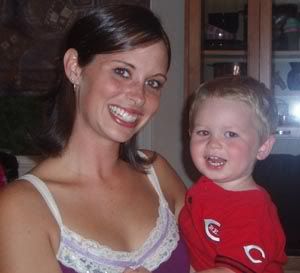 Aunt Erin & Zander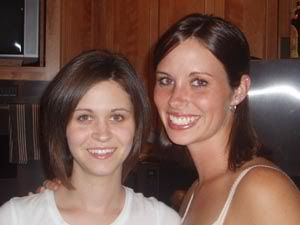 Erin & me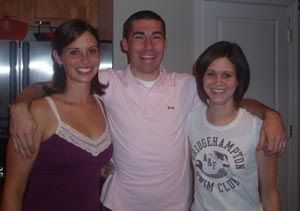 Mark, (Erin's boyfriend, the black irish hiking scarf's future owner) Erin, and me. We're all laughing because he's really short. The same size as me, and shorter than my little sister. He was standing on his tippytoes! ;-)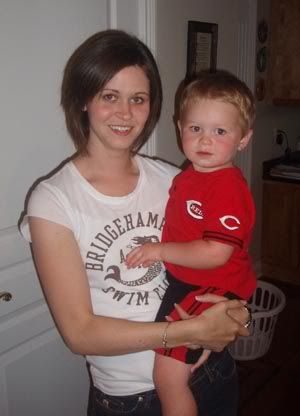 Zander & I. See how big he's getting? And I wonder why my back hurts all the time!
And look what I got from my secret pal!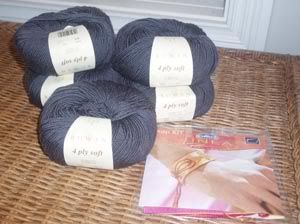 This is 5 skeins of coal colored 4 ply soft. YUMMY! What to mak, what to make?
I also got this really cool bracelet kit by DMC. It was funny, I was just thinking the other day, "I need to remember to get my cross stitch stuff out of the shed in CT. I should pick it back up a little bit." Well this isn't cross stitch, but it's still cute! Totally me! :-)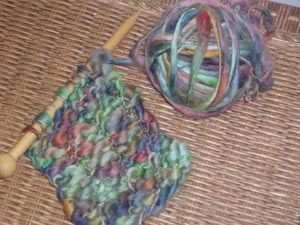 This was my 2nd favorite item in the box. I didn't even get a picture of it in the skein... it's beautiful. I couldn't resist casting on for a scarf. I think I will get some lamb's pride in a color from this hand dyed, handspun yarn, and make myself a coordinating hat and mittens for this winter on campus! :-)
This is so amazing, and so depressing in the same shot... the plastic container is FILLED with angora hair nic clipped from the angora rabbits she cares for. The left is Jaeger Chamonix. 48% angora. The depressing part? I can't wear angora. My mom saw it and said, "oh mel, don't you remember the white angora sweater you had in grade school?" Nope, I don't, but apparently it made me itch. :-( I think I need a friend with a spinning wheel.... If I gift them the angora maybe they'll spin this for me: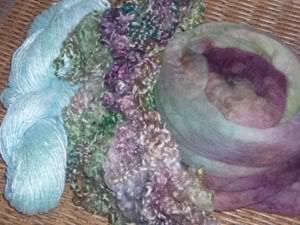 Well, not the stuff on the left... that's a mystery yarn... it's so soft... what is it? But the two others... that's wenslydale locks and merino... hand dyed in a BEAUTIFUL colorway. So who wants angora??? Who wants to spin the wenslydale locks (and maybe the merino) in exchange for angora? I'm afraid I'm not talented enough to spin the locks myself, but they're just so beautiful and rich that I just HAVE to have it spun up. Yummy!!!
And... my favorite part of the entire package and my favorite gift from my pal is this: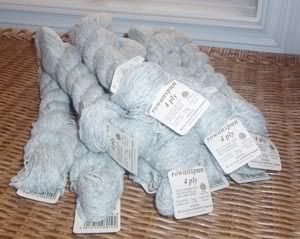 TEN (count them TEN) skeins of rowan homespun 4ply. It' is a beautiful light khaki color... I'm already searching for the perfect pattern. How did I get such a WONDERFUL secret pal???
Posted by Melanie at 7:20 PM