A relaxing weekend
I had THE BEST time on the boat this weekend. Surrounded by family and friends, and Zander is all one could ask for. I got to "ignore" everything that was going on in my life. Since I was physically away from phones & internet there was nothing I could do pertaining to my divorce. I'll tell you what, though. Reality set in like a bomb shell again on the way home. I'm doing everything to move this along as fast as I can. Nick is really dragging his feet. Until I get to peace with the fact that I AM doing everything in my humanly power I will be restless.
But, onto the knitting. Getting back on track with my September goals. I started Erin's felted bag. (there's not enough to merit a picture.)
And, I have THIS: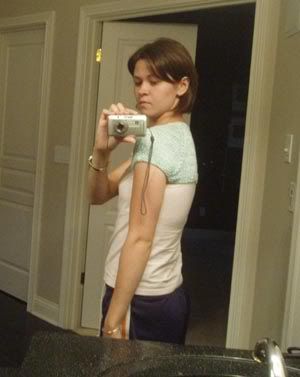 [let's pretend I'm not wearing my pajamas and let's pretend that my hair doesn't look like that! ;-)]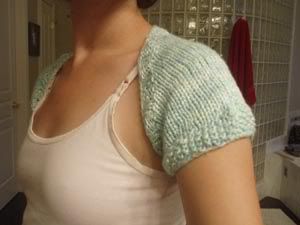 [let's pretend I'm wearing something that matches]
A FINISHED
ONE SKEIN WONDER
Started: Thursday, September 15, 2005
Finished: Saturday, September 17, 2005
Knitting Time: 4.0 hours total. 3.75 hours of knitting & .25 hours of finishing.
Yarn: Silk from Nic.
Needles: Size 8 &5, bamboo circulars.
Pattern:
http://glampyreknits.tripod.com/glampyrephotos/id97.html
Lesson: I WILL make this again. I already have a long sleeve one planned in my head. And I think I may have found a purpose for buying the "on the edge" book I've been drooling of for so long... I'd like to do something a little different on the sleeve cuffs and around rest of it. Something fun, like cables, or lacey, etc. Such a FUN quick project. I already have requests from family members for one. It's a garmet that only takes 100-200 yards and a few days. What a great gift idea!! Oh yeah, and although this fits-- it's not my ideal TYPE of fit.... so I'll make one size bigger next time.
I'll share some more pictures tomorrow.
Posted by Melanie at 7:46 AM