September Goals & Katrina Help
August Goals:
1. Finish Kari's Baby's Blanket-
Done.
2. Finish preparation for striped tank top. (My guage is different... I am embarking on the world of altering patterns!)
Done.
3. Finish hood and one sleeve on Zander's cardigan. I would love to finish it up, but highly doubt it.
Not Done. I didn't touch it. I still have 2" on the hood and no sleeves. It is buried in the back of my closet. Shameful. Poor Zander.
September Goals:
1. Finish "Hopeful."
2. Start and Complete Erin's Felted Bag.
3. Finish Soldier's hat for Charity.
4. Begin "Birch."
5. Swatch for Fair Isle Cardigan.
*I don't know when I think I'm going to have time for all this. Last month I tried to shoot low on the goals... and even though I didn't get #3 complete I did finish up several old projects and completed several new. I completed the irish hiking scarf, kari's baby blanket, a pair of socks, and a felted bag last month. That's 4 projects in one month. So I think/hope I'll be okay with completing 3 projects this moth and starting preperations for 2 more projects. By the way... the tank top that has an altered pattern has been put on the back burner. I'm starting to desire knitting with wool over cotton, so I have the pattern saved and will probably pull it out in the spring so that I can have it done and wear it next summer. WOO HOO!!!
As a side note... look what lindsey sent me! [by the way... I JUST lost my post... this was what was saved... doesn't that just irk you??]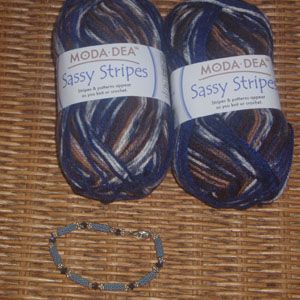 At the beginning of the month I sent her some paton's grace in orange for a chemo cap for her mom who is/was (?) undergoing chemo.
Isn't that sweet of her to send me something back? Thanks lindsey. I do hope you know I didn't expect anything in return... but it was a wonderful suprise yesterday since I was in such a funk because of 7 hours of school lecture and the katrina devestation. I don't have your e-mail so I hope this thank you is suffit!
Speaking of Katrina...
Webs (
www.yarn.com
) is donating 10% of their sales until Sept 10th to the disaster relief. If you need yarn... now is the time to stock up. They have some good deals anyway on name brand yarns!
As far as knitting progress... I don't have any pictures today (tomorrow I will.) But I'm 4" into hopeful... I'm starting the waist decreases. And I'm several inches into my soldier's hat. I'll have lots of time this weekend while studying and since both those projects are completely mindless I'll get lots done. By the way, note that I said they were mindless before... in a few days/ or a week I'll be calling them boring... I really need to step it up a little bit! ;-) No more stockinette.
Thanks for all the comments about my felted bag. I shouldn't have been so down/hard on myself the other day... I will try and fix it this weekend and find a solution (probably one of the suggested ones) on how to fix the closure area.
Thanks again!
Have a great day.
ADDED:
"From: Kim Rutledge
I am a CGOA [Crochet Guild of America] member living in Lafayette,Louisiana(just off the gulf - west of New Orleans).
Hurrican Katrina is the worst disaster to hit the U.S. EVER.Our situation is getting more and more desperate. We are receivingthousands ofevacuees both being transported out of New Orleans and surrounding areas and also a flood of people who had evacuated to neighboring states now returning toLouisiana and not being able to return to the areas they live in.We've opened our Cajun Dome to house people. Estimates last night were over2,000 people in the Cajun Dome alone. This number is continuing to grow by the hour. Many of our schools and churches are being used as shelters.
People have even opened their homes and have sometimes as many as 15 people sleeping on their floors. Our parish schools will eventually be taking in many New Orleans school children so they can continue the school year. Officials estimate that the number of evacuees sent here could grow to 100,000 people within the nex tfew days.We are in desperate need of - well - anything.
Yesterday and today'smain focus is getting people safely out of New Orleans. Food and shelter are top priority.However, the majority of the people arriving at the shelters have nothing but the clothes on their backs. Some not even shoes. Many have been separated from their families in the evacuation.
I know that crocheter's and knitters are some of the most generous people. You can tell by the number of charities listed on CGOA links pages and
internet.
I need to get the word out that if anyone can send anything -handmade or not -new or not - clothes, blankets, baby items, things like toothpaste, deoderant, baby wipes (we have no place for the few thousand people currently inthe Cajun Dome to bathe) - even if anyone has spare yarn they can send - I have a bond knitting machine and can crank out some baby blankets or blankets for the evacuees to sleep on pretty quickly. I do not care what type of home donations come from (meaning smoke, pet or allergy free). We are desperate.
Anything will be welcome. These people may be here for over a month. They will not have homes or jobs to return to. And they now have literally nothing.
Please pass on to as many people as you each can to please send whatever they can. They can send it me and I will deliver it to the shelters here. I will beworking at night in the cajun dome to help. I can bring with mewhatever is sent. I have already notified my postman to hold all packages marked hurricaneKatrina at the post office so that I can pick them up and bring them straight to the shelters. Any way that anyone can help, no matter how small, it will be greatly appreciated. Things for us will get a lot worse before they get anybetter. We are desperate to help these people.Please do not send me money. Please make any monetary donations directly to the:
Hurricane Katrina Disaster Relief Fund for the Animals
https://humanebenefits.securesites.com/giveto/DRF/HKDRF.html
Send all other items to:
Kim Rutledge
Hurricane Katrina
1901 Eraste Landry Rd.Apt. 1063
Lafayette, LA 70506
Thank you all in advance."
Kim
http://home.earthlink.net/~linkslilyray
Posted by Melanie at 8:27 AM