The Cotton Tots Queen
I am the Cotton Tots Queen: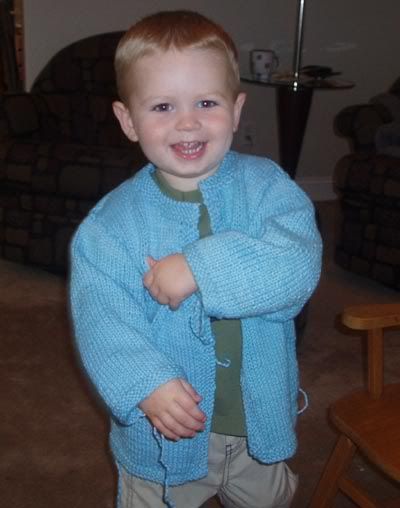 Being as he's two... it is incredibly hard to get him to be still long enough to take a picture... but here it is in its ALMOST done state. WHHHHEEEEEE!!!!!
It's a tad big... but that will give him all winter to grow into it and maybe he'll even be able to use it as a spring jacket!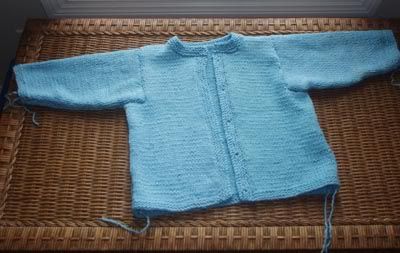 Here it is flat. Not shabby huh? The only things left to do are add the buttons and weave in my few remaining ends. I was really dreading the button band and collar (which is modified from the original
pattern
which had a hood) because I
don't like
HATE picking up stitches. But the wonderful
Kara
came to my rescue and introduced me to picking up stitches with a crochet hook. With that said it took a little longer than I would have liked so I only did it to pick up one side of the button band... but doing it that way really made me understand the full picture of why and how it is done. Now I feel totally comfortable picking up stitches. Thanks Kara.
Also, since I have time and don't want to study... I thought I'd address some other comments made on my blog recently.
Kathy
said she loved seeing Zander's tiny shoes in the background of one of my pictures. That boy's feet are NOT tiny. He wears an 8XW. That is 8 eXtra Wide in stride rite shoes. That boys got feet like clubs! ha ha.
Becky
has stopped by twice and complimented the speed in which I knit and asked if I ever sleep. Why yes, ma'm I do. I sleep from 10-6 and then have a little bit of time in the morning to knit before Zander wakes up, and then I have 5 minute bits here and there while he's amused by TV, food, games, etc to knit a few stitches. And then at 9:00 at night when he goes to bed I'll knit for a full hour. So I get about 2 hours of knitting time a day. That's probably a little more than a lot of working folk. I'll have to see if I get that much once I start working next month.
Speaking of working. Zander and I went and checked out his first daycare this morning. He loved it so much I signed up on the spot. He starts going next week. Since he is still a little behind on his speech he is going to be with kids that are anywhere from 1 day to 3 months younger than him. Hopefully he'll fit in with them a little better. While I filled out paperwork and went over the policies with the director Zander got to play with his classmates. When I went back in there he had made a little girlfriend already. Quick mover! HA HA HA!
I must go study... Until then, knit some.
Posted by Melanie at 1:29 PM