Giving is Good
Here is the next box I'm sending off to
Warm the World
.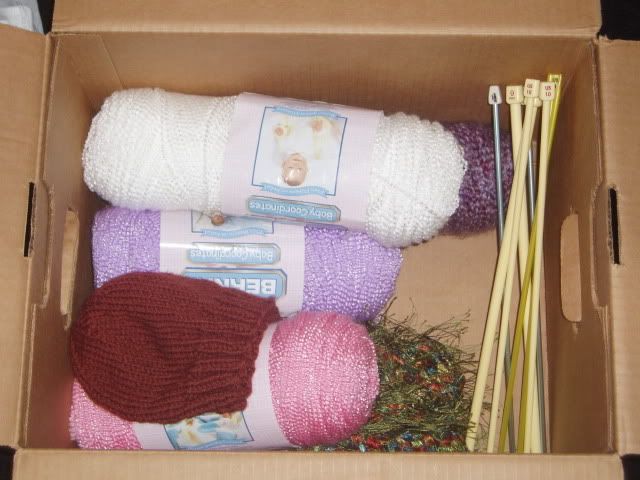 I'm sending a shawl, the soldier's hat,3 skeins of bernat baby coordinates (Didn't like knitting with it) and 4 pair of needles. Size 13, 10, and 2 size 8's. I also am sending a cable needle. If you have needles to give up to a good cause see
Kathy's Blog.
When I moved my CT stuff down here I toted a lot of fabric that I know I won't use... so guess who gets it now? :-)
They're also getting various quilt tops [not pictured] in different stages. Most just need borders, backings, and quilting.
Speaking of Connecticut... look what I found up there:
My first clapotis from
way-back-when
[March 21st entry.] I'm almost done with it... I had just started the decreases. I wish I remembered the pattern well enough to remember (easily) where I was. This should only be another few hours of knitting time to finish it up. If I don't get to it this year I think I'll make it a goal in January.
Anyway, I'm off to knitwits to get the yarn to finish Donna's OSW. By the way, Piggoia had mentioned using another yarn to finish it... I tried several. Not impressed. Mom had some of the exact same yarn, different color, but there wasn't enough of that either. I don't want to talk about it! :-(
Posted by Melanie at 10:23 AM