October Goals
September Goals:
1. Finish Hopeful.
Not Done. Frogged. It wouldn't have fit me right anyway.
2. Start & Complete Erin's Felted Bag.
Done.
3. Finish Soldier's Hat for Charity.
Done. Although I'm not very impressed with my charity contribution this month. Must do better for October.
4. Begin Birch.
Done. Done. Done. Done. Done. Done. (That doesn't mean I'm done with the shawl... that's just how many times I began it.)
5. Swatch for Fair Isle Cardigan.
I didn't do a full swatch... I did a few more rows than pictured below and it was obvious that my gauge was wrong. I think I'm going to learn to steek so that I can knit the cardigan in the round and not deal with doing two handed fair-isle on the purl rows. YUCK.

October Goals:
1. Get my
Gallery
updated.
2. Start another
Warm the World
Item.
3. Finish the sleeves on Zander's Cardigan.
4. Start and get decently far into the back of the Classic Cardi [pictured below]. Try to finish the back.
5. Complete Uncle Dick's Socks.
6. Complete one of Dad's Socks.
No work on the fair isle cardigan this month. I need to get size 2 needles. This is also my last month as a stay at home mom. I start a temporary full time job on November 1st (YAY!) that will get me through the holidays, and so this is my last month of having a lot of knitting time (Bummer!) and so I want the knitting to be enjoyable and stressless. The fair isle cardigan will not be that!
So, the Classic Cardi?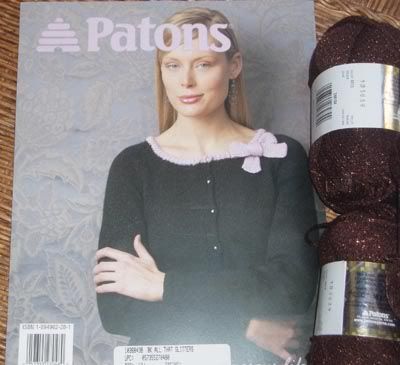 yarn: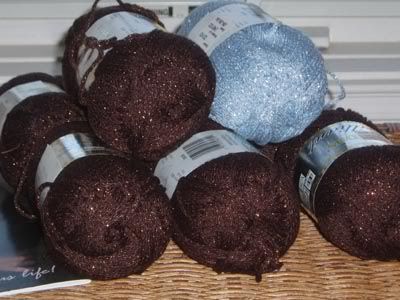 The yarn was on clearance... $3.00 a ball. I needed 7 balls. $21.00. Not bad. I couldn't buy a sweater for that much AND I am in need of some "office" clothes. I am quite sad that I am no longer able to afford the expensive yarns I was just getting used to using, but am trying to tell myself that I knit for the process (which is true) so it doesn't really matter what I knit with. If I get a sweater out of it that's good enough for me. :-)
Anyway, I had a gift card to Michael's (that's how I was able to spend the money on this yarn, otherwise, NOPE.)
So I also picked up: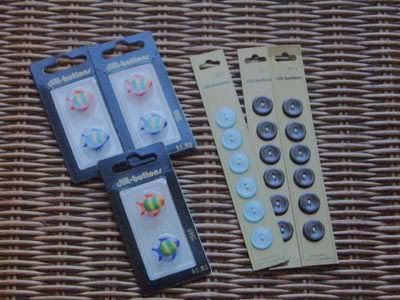 Brown buttons for my cardi. Will need one of the blue buttons. I got the fish buttons to see how they work with Zander's Cardigan. If not, the blue buttons will work for that. [sorry about the crappy picture, but you get the idea.]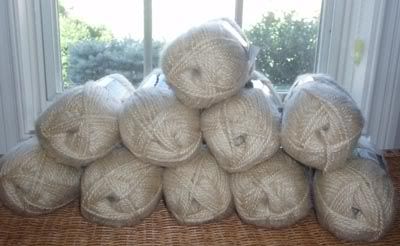 Also got 10 skeins (1350 yds) to do a sweater from the calmer collection. $1.86 a skein. Not bad for a poor girl, eh?
**** PERSONAL STUFF... no knitting, stop here if you don't care****
Another month come and gone. I have to say, on a personal note, this month has really sucked. I am now well into the divorce and happy (for lack of a better, more appropriate word) that it is happening. There are still hard days... there are still days when I want to throw the covers over my head and not get out of bed. There are still days when I think how unfair it is that Nick can run to the grochery without hassling with car seats, sippy cups, toys, and attitudes.
But on the other hand.... most days I feel sorry for Nick. I worry that this Christmas will be really hard for him since he will be (sadly) alone. I feel bad that he is going to have to send money every month for Zander, yet not really know what the money is going to, or have a say in what sort of things I buy for him, etc. With that said, I don't feel enough sympathy to reject the money, or tell Nick that he can have another chance in my life.
I do have to say that I am trying very hard to forgive him, because I know that is the key to moving on and advancing in my life. So, Kathy, to answer your question from a week ago... I guess I'm doing okay. Every day is different, so everyday I allow myself to feel the way I want to feel with understanding that it is all part of the grieving process. Each day gets a little bit better and the sadness gets a little weaker. I'll be okay. I am better off without him. I am a good person, and good mother, and will only be that way on the path that I am on now.
I welcome October with open arms!
Posted by Melanie at 12:46 PM