Too Many Socks
Before I get to socks may I just say that I get a WELL DESERVE childless night out bar hopping with Tracy and Marilyn?? WEEEE!!! And not only that, but since I am life and death against drinking & driving I will be staying AWAY for the night, which means good sleep--- AND... if it isn't good enough, I get and extra hour of sleep because of DAYLIGHT SAVINGS TIME. pics to come.
Anyway, back on topic.... TOO MANY SOCKS:
Hmmm... is this a problem?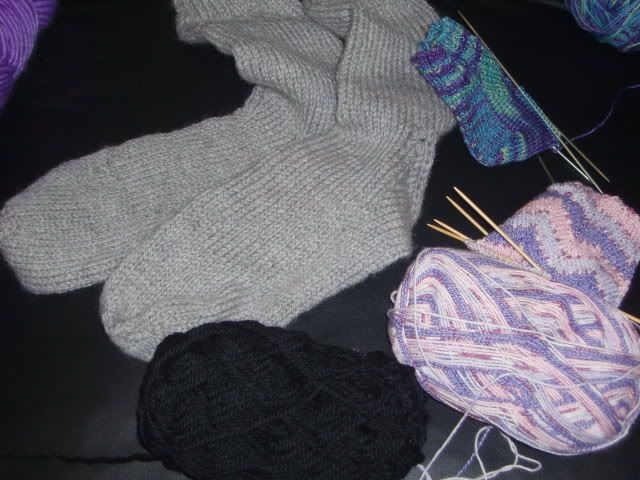 You may remember Uncle Dick's Socks... well, my aunt brought them to work with her last week (we work at the same place) and said, "Buddy [that's the dog] chewed a hole, can you fix them?" FANTASTIC. They're not even 2 weeks old yet, and they're already holey. So I said sure... now I need to undo the kitcheners stitch and go back about 2" (I'm lucky that's all the farther the hole is, or I'd probably just seam it up.)
The black yarn is for Dad's socks... I found 1.5 skeins of patons classic wool in my stash. WOO HOO! Need to cast on for them quickly... as it was part of my October goals.
Anyway, then I have my two pairs of socks... here are detailed photos of them.
I just finished the gusset on these.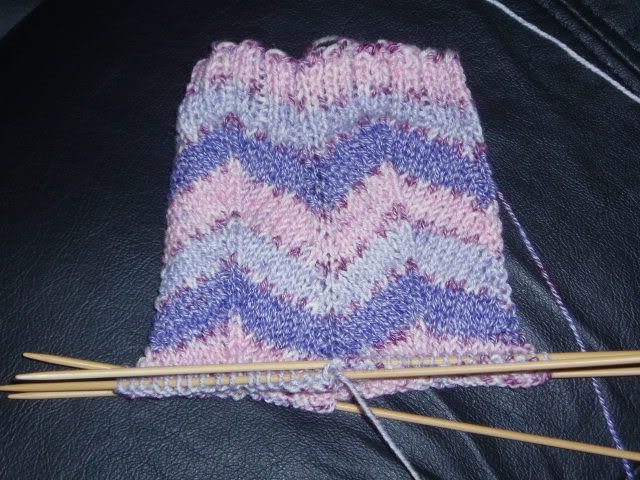 And I'm getting ready to start the heel flap on these.
Anyone else see a problem with this? I think I may have gone a little overboard for
SOCKTOBER.
I really need to force myself to stop working on the socks and get Donna's One Skein Wonder done. I only have a few more days left in the month. I hate picking up stitches!!!
Posted by Melanie at 9:49 AM