Weenies, Studying, and Knitting.
First off, did you see
Harlot's
blog entry yesterday? TOO FREAKING FUNNY. If you haven't read, then you must.
On the "homeland security gov't" side, I am studying today. I have an exam in Intro to law tomorrow. On everything from paralegals (those that do attorney's work, but should have just gone to law school and passed the bar so they could make twice as much) to Torts (personal injury "I'm-going-to-sue-you-because-you-make-cigarettes-and-now-I-have-lung-cancer" cases. Thank God for my knitting to help me through the studying:
I'm 11" into the back of the Classic Cardigan, and am 1" away from shaping the raglans. FUN!
I'm also working on these: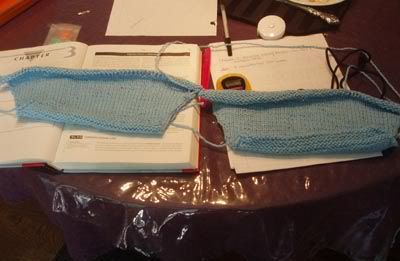 Zander's sleeves. My mantra? "I hate this yarn, I hate this yarn." I do, however, LOVE the fabric it produces... can't wait to get it done.
And, I thought I would share this trick with those that don't know it:
As you can see, I am knitting 2 sleeves at once. My first attempt to do this was DISASTEROUS. I couldn't tell if I had done one sleeve in the row or two (since they were knit with two balls of yarn the end of ever sleeve looked like the end of a row. I frogged.
My friend Jen (whom I work with and who does my nails) is an avid knitter. She mentioned a cardigan she was working on for her neice. She said, "I'm doing the sleeves now." Upon her saying this, it sparked a HUGE conversation on my disasters of trying this. She said quite simply, "Pin them together."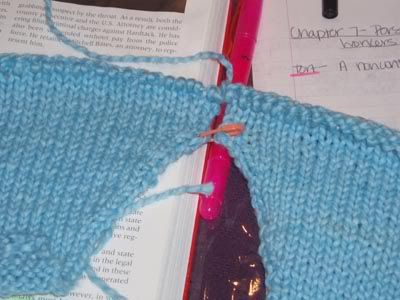 Can't get the beginning, middle, or end of the row mixed up now. Once I get to the pin (or clover stitch holder) I know that since the pieces are still "attached" I must keep going to finish this row. The sleeves are slow going, but it is nice to know that when I'm done I will be done. And I won't be suffering from SSS (Second SLEEVE syndrome.)
So for anyone that hasn't tried knitting two sleeves at once yet... please try pinning the two sleeves together... it will save much headache in the end.
On other, totally unrelated news, I think I decided what I will knit my Aunt Peggy & Uncle Ron for Christmas this year:
http://knitting.about.com/library/blstocking3.htm
http://knitting.about.com/library/blbbripplestocking.htm
http://www.planetshoup.com/easy/holiday/xstockknit1.shtml
Anyone ever knit christmas stockings before? Aunt Peggy has a very "country/floral" taste in decorating... loves very folky christmas decorations... so I thought it would be perfect for her, but I want it to be well received... any other patterns/book suggestions?
Posted by Melanie at 12:45 PM