Christmas Knitting Done
I finished Dad's socks. They're obviously too big for me, but here they are: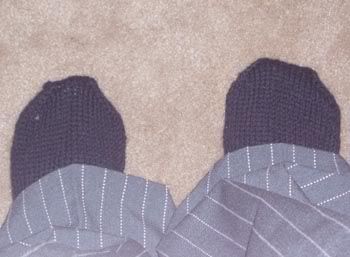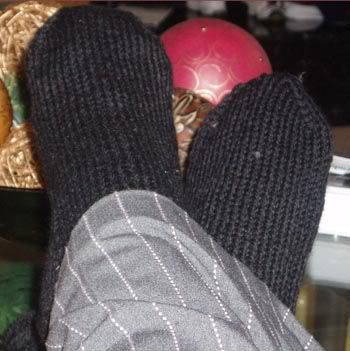 This will probably by my last Finished Object of the year, which means, in my first full year of knitting, I've sucessfully completed 31 projects. Not too bad. Speaking of Finished Objects... I need to update the gallery-- I'll do that after the holidays.
But here are the stats for this one:
Started: Sunday November 6th, 2005
Finished: Wednesday December 21st, 2005
Yarn: Patons Classic Wool- Black- a little more than 1 skein
Needles: size 7 DPNs
Pattern: Cast on 44; 2x2 ribbin for 2"; leg 8"
Knitting Time: 7 hours total, 3.5 hours per sock.
Lesson: none
So what's next? Still need to fix uncle Dick's socks, but can't seem to locate them at the moment, and then I have this: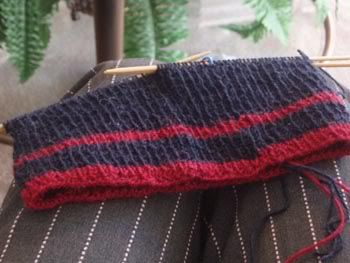 This pismo hat. The stitches look a little wonky. This wool hat will definitly need a good blocking after it's done to even out the columns of stitches. I am about 3.25" into the hat, and have to reach 5" before I start decreasing. The idea of 1.75 more inches of k1,p1 ribbing isn't the most appealing thing, but I'd love to get this hat done. Maybe I'll make my #3 goal (Work on and get some progress on an old unfinished object.)to finish the pismo hat. We'll see how I feel about it once I get going on it again!
Back to knitting!
Posted by Melanie at 9:48 AM