Multi-Directional Knitting
I've been working on this for about a week (I hope to get it done today and blocked tomorrow) but have yet to show a picture of it.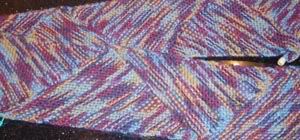 This is knit using pattern from the Multi-Directional Group, plymouth Outback wool in color 996, and size 8 needles. I love how it's turning out. 2 more triangles and I'll be ready to do the final right triangle and block it. How fun is that?
My mom is working on her block of the month and has learned (like I did) that manos yarn is very "sticky" and bamboos make for some challenging knitting. I think I have her almost talked into a LYS run tonight. ;-)
That's all for now. I'm back to knitting while Zander is busy with Grandpa.
Posted by Melanie at 3:44 PM