My Swell Secret Pal
Look what I got from my secret pal: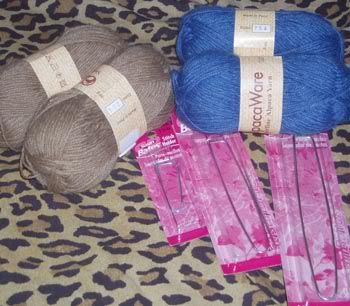 I also got some stitch markers and a cute little christmas elf statue (not shown.) I opened up those stitch markers and threw them right into my notions bag. There are also three stitch holders, in different sizes. Look at the tiny one: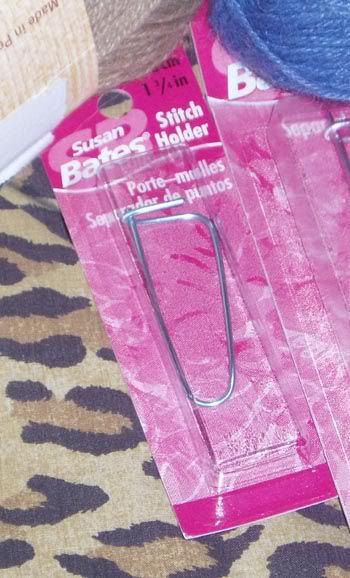 I am thinking this tiny one might come in handy when working the heel flap on socks. I hate how the two needles holding the instep stitches are always in my way. Thanks pal!
I also got 4 skeins of alpaca in brown and blue. Does she know me or does she KNOW me! I'm thinking I'll do a striped scarf or mittens with it. We'll see what sparks my interest. Until then. I'll just pet it when I go into my stash closet! :-)
Anyway, The elf was put on display on the mantel. I was so delighted to receive it, b/c all of my christmas stuff was left in CT with the soon-to-be ex. I will probably receive some of the stuff back next year when he moves to Ohio, but I'm not sure how much of it will bring back memories that I'd rather not relive.
Anyway, speaking of new beginnings: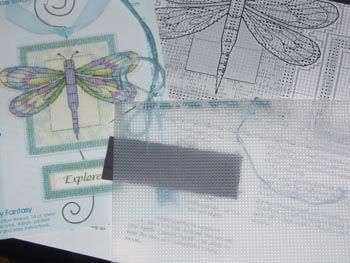 I have had a cracing to pick up cross stitch again, but haven't been able to find my stuff from the move, so I bought this very cheap kit the day after thanksgiving. I started it on Sunday the 4th. This is about 30 minutes of string division and 20 minutes of stitching. I hope to work on it about 1 hour per week so that I can hang it in my apartment when I get it. I thought the "explore" statement at the bottom was perfect for me. It will be my mantra.
Posted by Melanie at 10:21 AM