Tuesday's Shopping
Shopping? Sure, everyone's doing it. It's the holidays. Shopping for others. Some knitter May even be buying yarn. But the yarn they're buying is most likely For. The. Holidays.
Not me. I had a few hours in between work and my "Block of the Month meething," so I went to
Knit On
first.
I got: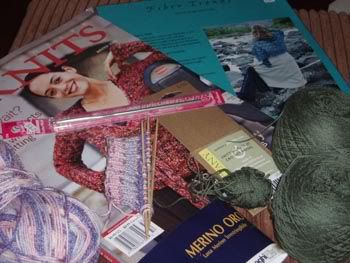 size 0 5" long needles... the jaywalkers are bothering me on the long needles. I had a pair of plymouth double pointed bamboos that I had gifted to
Kris.
I didn't think I liked the shorter needles because they tickled the insides of my hands... but I think it's just plymouth's length. but "sock" double pointed needles are fantastic. If you look in the picture you can see the needles... on my jaywalker socks. Yes, that's all the farther they are... I am about 4 rows past the ribbing. Hopefully I can work on them some tomorrow so that I can post for the KAL update on Friday.
I also got this Merino Oro lace weight yarn. It's so soft. It was a PAIN for the woman to wind... I ended up telling her to cut it at one point b/c it got so tangled. She spent probably 30 minutes winding the yarn. Anyway, see the fiber trends pattern at the top? It's
this.
I love River from Rowan, but I don't really want to buy an entire rowan book for that pattern. So this is similiar. I saw it and thought that looks like a great "first lace" project. (Let's not think about how many "First Lace" projects I've attempted. I'm immune.... I can't hear you. Lace? What's lace? I think I'll try it. For the FIRST time.)
The crochet hook is to make
this.
And I don't even know how to crochet. ha ha. But those things are so cute!
Then, if that wasn't enough, I went to knit wits for the monthly block of the month meeting. I resisted browsing or buying... until I was leaving... then Janet (the owner) told me that the new interweave knits magazine was out. I had mentioned earlier amongst other knitters how I loved the patterns in the fall issue and that there were 2 sweaters in there I hoped to make someday. DAMN IT. So I picked it up and began thumbing through it.
LOOK. AT. THE. SOCKS.
I must make them. Need to get some sock yarn. Solid sock yarn. (If you don't have the magazine yet I will take a picture of the pattern I'm speaking of later.) I'm short on time now.
Then I also scored a pattern for a pair of wrist warmers. I am working in a warehouse right now and it is cold... gloves don't work because you are constantly taking them on and off to write, flip pages, type on the computer, etc... but wrist warmers... yes, they will actually serve a purpose... keep the palms, tops of my hands, and wrists toasty warm.
So... I must finish Aunt Peggy's Scarf and Dad's sock (2nd sock) and then I may cast on my shawl. I will also cast on the wrist warmers. Even though they don't really fit into the schedule this month it will be nice to have them. They are a necessity at the moment.
Then I went home. And I worked on Aunt Peggy's Scarf: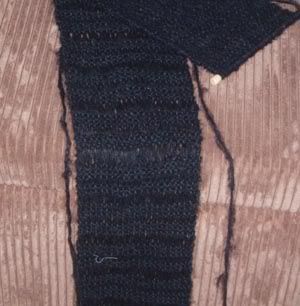 The pattern is just a simple drop stitch. I'm on the second ball of yarn, but am starting to get bored... which is what I wanted to avoid. The problem is that black wasn't going to let a few of the patterns snow up, and the other patterns were not made for fuzzy yarn. And this yarn is FUZZY: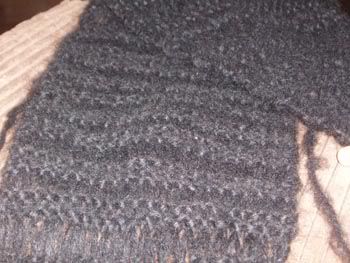 Anyway, I guess that's all from me now. I have 2 exams within the next week... one is a take home to be distributed today and the other is an in class exam next wednesday. So I will be sparse until then... unless of course I'm stalling on studying and decide to make a post or two, ha ha.
Hopefully I'll be able to stay on track and will have lots of knitting studying get done, maybe like dad's second sock.
Posted by Melanie at 12:45 PM