Good Things Come...
... To those that wait.
Like this: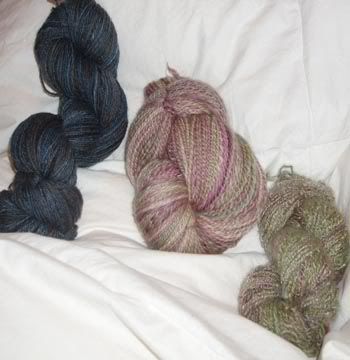 A few of you may remember a few months back my fantastic Secret Pal sent me a whole bunch of unspun fibers. Among it was Angora (which I forgot I was allergic too) so I sent it to Dan who got to keep it in exchange for spinning up these fibers. Remember now?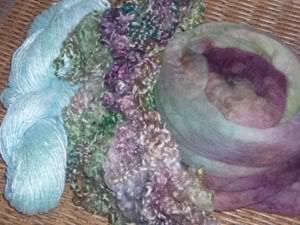 (not the stuff on the left)
The middle one in the above picture is the stuff in the right. Dan thought he "messed it up" so he sent the other stuff you see there... 3 ply fingering weight handspun. browns and blues... does he know me or does he know me???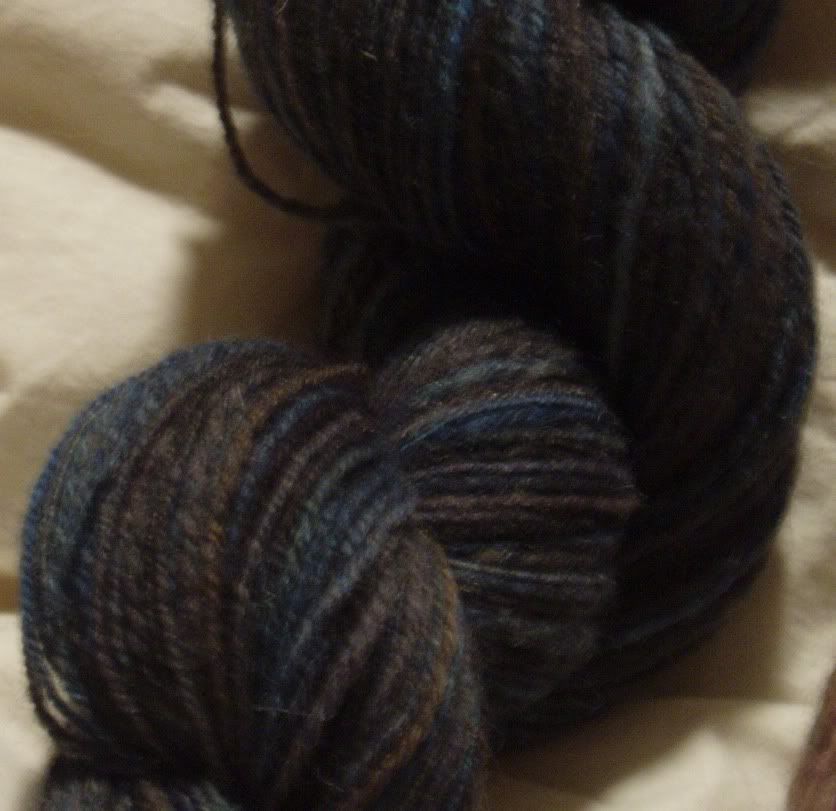 okay, yes, I'm aware that the picture is blurry, thanks. But since I'm rarely at home, uninterupted, during daylight hours you'll get what you can take damnit. Be thankful you're getting pictures.
Anyway, so that's what I got. He did an absolutely fabulous job, the blue has already demanded to be knit up, so I may have to squeeze in a quickie project... maybe some wrist warmers... or litte wrist cuffs... the other two I'm not sure about... but I'll find a use for both of them... and hey.... I have a swift and ball winder now, so I'm all good.
On the Melting Pot Front....
I am just simply amazing myself. I always knew I was a hard worker, I've been offered return positions at every job I've had, and people praise my good work ethic (I'm not bragging, really.) But it still comes as a shock to me every day when I have a new "lead" or "supervisor" tell me they'd love to have me work in their department. I was hired in as a temp for a woman on maternity leave in the customer care center. Upon her return I was to be moved to inventory where I would remain... but the buzz has been "Mel, they'll offer you Tonya's job when she leaves... would you take it?" (That's in customer care.) And in Shipping they were short handed Friday and Saturday, so I helped. I was told by the supervisor there to let him know if I ever wanted to work back in shipping full time. Tonight the lead of 2nd shift in the finishing department pulls me over. "Would you like to work here? I could really use a hard worker." Now, finishing work is just that... the final step in preparing the "goods" we offer. It's "lab" work. hands on, technical stuff. No frilly desk job here. I just really like my split shift that I work. First shift is 8-430, 2nd shift is 4-1230. I work 1130-8. AND... I get the shift differential pay (which is 10%) since it's not first shift.
The job he wants me for is 2nd shift. I really don't want to work second shift. But I also know that I really need to be there, in finishing, if I want to learn about this particular field. It's a great place to advance quickly. And most people in a leadership role have worked in the lab.
He has a meeting with the director of operations tomorrow at 3. I have until then to decide. What would you do? tell him no, you like your hours? Tell him yes, you'll switch to 2nd shift? or 3rd, tell him you would really like to work in that department but would like to maintain your hours? I'm leaning towards the 3rd. I mean, he approached me, he asked me, he obviously thinks I'd be a good worker (which I am), so shouldn't I let them haggle over the hours. I mean, (without bragging) isn't it quite obvious that I'm a hard worker and will be successful wherever I go? PLEASE SAY YES. Please say that's what I should do. I mean, even if they don't approve those hours it's not like I don't have anything to fall back on, right?
Posted by Melanie at 9:34 PM