I *HEART* Lace
I love lace. I love lace. Have I mentioned that I love lace? Look at what I did this weekend.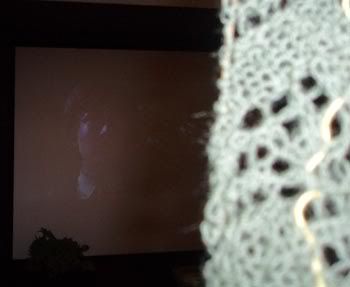 Can you see what movie that is behind me? It's hard to see, I know... but if you can recognize the character you'll know what movie(s) it is. I got all 3 of them for Christmas, so I've had lots of _____ _____ to watch.
Anyway here's a "Better" picture of the lace currently.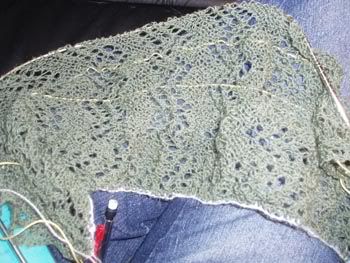 It is moving along nicely an I'm having sooo much fun watching this ugly puddle of green FUZZ develop between my fingers! :-) The only problem? There are 28 repeats in this shawl. One repeat is the distance between my two lifelines. One repeat is taking me between 1 hour and 9 minutes and 1 hour and 11 minutes. At this rate I could be done at the end of the month, but would not have had time to work on anything else. And as we know from yesterday's post I have other stuff planned for this month.
We'll see what happens. I won't push myself to complete it this month now, but would like to get at least 1/2 way done.
Well, today was a holiday from work and I dropped Zander off at school so that I could get some very important things accomplished (Like knitting.) So this morning I ran to the mall up the road to exchange some things I had gotten from mom for christmas. The first was
1000 Sweaters
. I had had it on my wishlist for some time now, but was Sadly dissapointed by it. The first problem was the sizing. The smallest size listed was a 36." Sometimes I can wear a 34" but most of the time I need a 32." The second problem was that all sweaters were knit with and given directions for 1 gauge of yarn. So forget branching out. If you want to make the sweaters in that book you need to be using something the same gauge as Rowan's Wool Cotton.
Aside from those two complaints it was a very nice book with lots of great ideas and inspiration. But the size thing really won me over. It went back. The other book I got that went back was
Last Minute Knitted Gifts
. Now, the only reason this book went back was because it was a duplicate gift.
I LOVE the patterns in it, and can't wait to make some... or at least flip through it on occasion to inspire myself!
So what did I get??
Vintage Knits
and
Ann Budd's
Sweater Patterns book. In Vintage knits I LOVE Salina (the picture on the cover). When I looked at it in person I knew I needed that sweater. Along with the following one. (I can't remember the name it-- and am too lazy to walk across the room to find out.)
Anyway, the purchse of these two books definitly adds some projects to the "to do" list.
Posted by Melanie at 9:43 PM